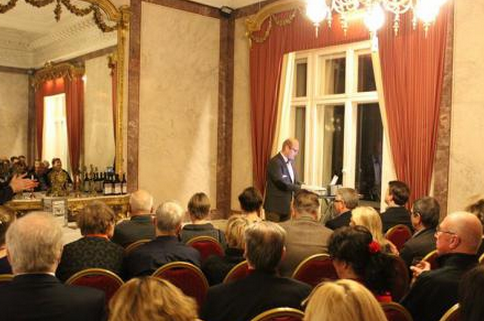 25.02.2015. On the 19th of February, at the Dickson historic palace in Gothenburg, Sweden, was held the Georgian wine tasting and a presentation of the newly-established organization "Marani" for elite representatives of the business and cultural sectors. The wine club "Marani" is run by the qualified team and Meril Buman, the former marketing manager of Volvo, who is the head of this team. The wine club "Marani" was set up with the support of the Georgian Wine Club, and its main purpose is the popularization of the Georgian wine.
This time Villa Overo in Gothenburg hosted more than 70 guests. The represented auditorium consisted of Swedish businessmen and cultural workers. This event was also attended by representatives of the Swedish media. Mattias Knutsson, one of the founders of "Marani" retold about Georgia and the Georgian wine to attendees and then introduced them vision and strategies of the newly-established organization, which was followed by the wine tasting and the ceremonial reception.
At the wine tasting was presented Saperavi and Rkatsiteli of Pheasant's Tears, offered to guests by Erik Andermo, one of the founders of the organization; also one had a chance to taste Tbilvino's Saperavi.
Giorgi Skhirtladze, Georgian economist, one of the founders of wine club "Marani" and president of JSC The Georgian House, noted that the event made a great impression on guests and they expressed their will to better acquaint with Georgia and Georgian wine.
According to Skhirtladze's information, the business segment in Sweden does not know well the Georgian wine and is also less acknowledged with Georgia, as the homeland of wine. Due to this reason, the wine club "Marani" was established and it has lots of initiatives in its agenda regarding the popularization of the Georgian wine. In April and in September "Marani" with the "Georgian Wine Club" will hold two significant wine tastings for the business sector representatives, the Georgian cuisine will be also presented there.
Should be noted that in comparison with 2013 year, the Georgian wine export to Sweden was more than double in 2014. Thus, events of this kind will add their contribution in making Georgian wines interesting for the Swedish business sector and consequently, the demand for the Georgian wine will increase in the market of Sweden.
Source
©
Georgian Wine Club, National Wine Agency
To add this Search Box to your website, click here. Many designs are available.