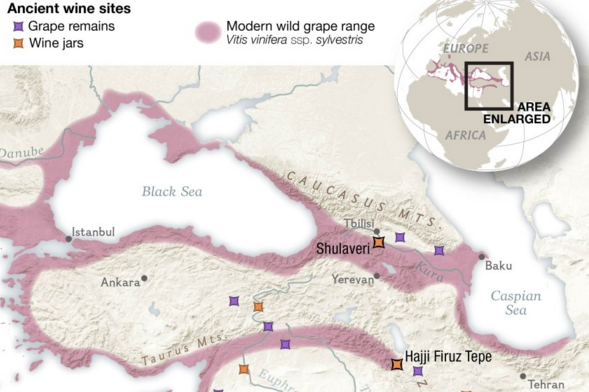 Map: Andrew Umentum
11.01.2016
(Hvino News). NASA - National Aeronautics and Space Administration of the United States - is helping Georgia to determine if Georgia is birthplace of wine.
According to David Magradze, the head of the Viticulture Department of the National Wine Agency, the final result would be known in 2016, although it was initially planned for December 2015. The National Agency of Georgian wine said the project will scientifically determine Georgia as the birthplace of wine. The scientific research requires a long-term process until the final results can be published.
"The first result of models sent into the NASA laboratory showed a wine acid remain was discovered in one model, which is consider as mark of European vine. The second parts of models are already sent and research will finish in December. Declaring Georgia as birthplace of wine will be most important phenomena, which will rise in interests in the world about Georgia," Magradze said.
The government of Georgia started to work on the project in January 2014. Read more:
The U.S. Space Administration to study the Georgia's vine samples.
Several international scientific centers, such as a laboratory of NASA, Pennsylvania State University, University of Montpellier, University of Milan, are also involved in the project.
"We are sure definitely Georgia is the birthplace of wine, but the models need to be recognized and declared by the leading scientists of the world," Levan Davitashvili said.
"We aren't interested in proving that winemaking was born in Georgia," insists David Lordkipanidze, the director of the Georgia National Museum, in Tbilisi. "That isn't our goal. There are much better questions to ask. Why did it start? How did it spread across the ancient world? How do you connect today's grape varieties to the wild grape? These are the important questions."
Hvino News
has attempted repeatedly to get an official comment from NASA regarding involvement in this project. At this moment we do not have any proof or further details. As soon as we have additional information it will be published.
To add this Search Box to your website, click here. Many designs are available.