20.02.2019 (Hvino News).
Hvino News is continuing a series of exclusive interviews with people in Georgian wine business, who previously followed completely different career paths, with serious professional accomplishments in areas very far from winemaking. Today our guest is Andro BARNOVI – a natural winemaker and founder of "Wine Artisans".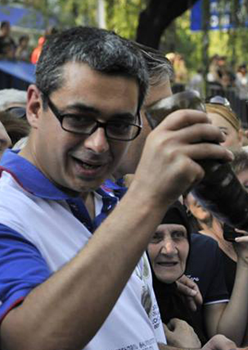 Though he is only in his early forties, Andro's professional background includes such positions as Deputy Defense Minister, Head of the Administration of the President of Georgia, Rector of National Defense Academy, and Governor of Shida Kartli (a region in Central Georgia). 
We are meeting with Andro Barnovi at his natural wine chateau near the city of Gori, where "natural" seems like a fundamental principle underlying everything – from the wines and food to furniture.
Alexander Kaffka, publisher of Hvino News: 
Dear Andro, thank you inviting over to your place. I know that your past professional experience is quite diverse, with a serious bias to politics and especially national security and defense. I hope we will talk about it today. But is it also true that you make your furniture yourself?
Andro Barnovi:
It's a pleasure, Alexander, always welcome. Well… yes, that's true. Everything you see around except, perhaps, piano, is my work. You see, what drew me to Tsedisi was the decision to put myself in the realm of nature and wilderness with minimal links to the world outside. I felt I needed to rejuvenate my energies and rethink everything I've ever thought and believed. So everything I try to do here are the bricks in the wall of my solitude.
AK:
How did it happen that you changed your trade from a politician to winemaker? That's quite a transition. Have you ever thought about winemaking in your earlier years? Is it a family tradition, perhaps?

AB: A family tradition, yes, but I didn't know a lot about wine making. Had some experience of helping my father for years but that was rather sporadic, and I really had to connect scattered dots in one piece. Wine making is a big thing, you never cease learning once you stay in the field. Mistakes make you a better winemaker provided that you care about quality and respect what you do. Of course, it is a serious, multidimensional science and one has to read extensively to model everything in the brains, which takes time and requires devotion and certain learning skills.