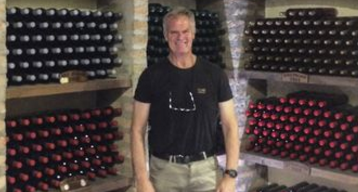 John Henderson in Georgia
10.09.2018 (Hvino News).
Los Angeles Times
 - a leading US newspaper - in a recent issue published an article focusing on Georgian wine, entitled "In Georgia, wine is a centuries-old tradition that has brought new appeal to the republic".
The article is authored by John Henderson, who visited Tbilisi and Telavi. He spent two weeks this summer in Georgia, at the eastern end of the Black Sea, and toured some of the 20 wineries around the capital of the Kakheti region.
He starts his text as follows: "It was known as the "Tuscany of the Soviet Union"... Everyone in the Soviet Union knew it, thanks to wine, the greatest gift the Republic of Georgia gave mankind. Wine was being produced south of Tbilisi, Georgia's capital, as early as 8,000 years ago... Throughout its history and its oppression, Georgia always had wine to fall back on. It became a form of expression when Georgians had none. And it was the main source of wine for Mother Russia, its neighbor. And since independence in 1991 and a Russian embargo in 1998, improved production and marketing have made Georgian wines among the trendiest in the world."