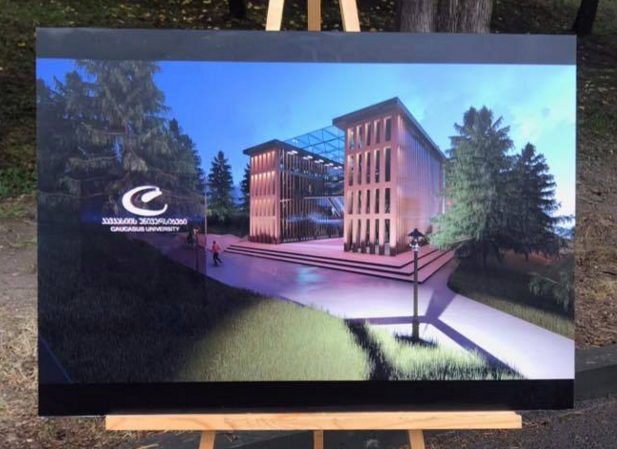 by Samantha Guthrie
15.10.2018. This weekend, Caucasus University announced that it will expand, opening a new campus in the town of Gurjaani to be called 'Caucasus Wine University,' which plans to accept its first class of students in the 2020-2021 academic year.
The announcement was made during the 2018 Gurjaani Wine Festival. Member of Parliament, Gurjaani Majoritarian Davit Songhulashvili presented the project to the Minister of Education, Science, Culture and Sport of Georgia, Mikheil Batiashvili, Head of the National Tourism Administration Giorgi Chogovadze, and other guests. Songhulashvili and representatives from Caucasus University, including founder and president Kakha Shengelia, presented a series of digitally rendered images of the new campus design, a modern, glassy, oversized take on a traditional Kakheti winery, resembling the Chateau Mere and Schuchmann Wines Chateau buildings.
The 2018 Gurjaani Wine Festival presented more than 100 varieties of traditional qvevri wines from both large companies and small family-owned cellars. The festival was held within the framework of Georgian Wine Week, supported by the Ministry of Environment Protection and Agriculture, the National Tourism Administration, and the National Wine Agency. Gurjaani's festival was implemented by MP Songhulashvili and his staff. The festival was designed to promote the development of wine tourism and introduce wine culture and local traditions to international and domestic visitors.