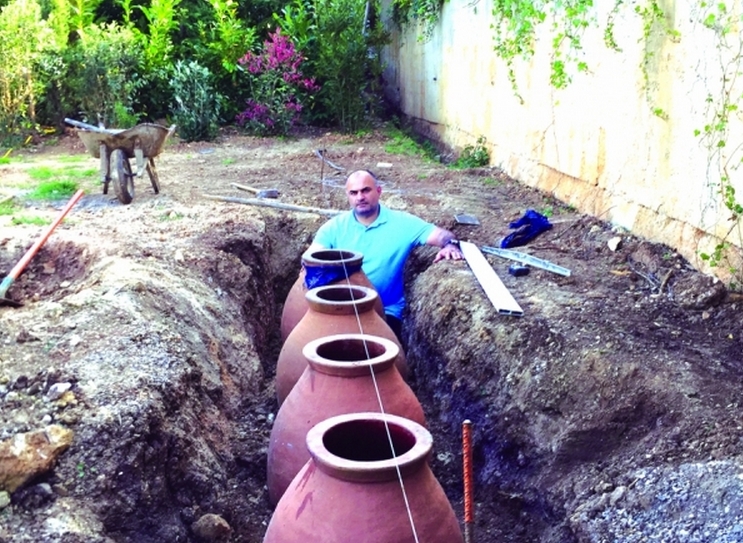 by Eka Salaghaia
04.07.2015. In the French city of Juan-les-Pins, Georgian rugby player Ilia Kakhoidze and his Corsican friend Jermaine Gerard decided to set up a Georgian vineyard. This spring, they planted 200 grapevines of Mujuretuli variety and started construction of a marani (underground tunnel used to store and age wine). Four Georgian kvevri (giant clay jugs for storing wine) have already been filled. Very soon the
marani
will also be outfitted with a wine press and a
toné
(an oven similar to a tandoor). Before the first
rtveli
(harvest) is complete, a wine tasting room is also expected to be added.
"What we ended up creating was a tiny model of Georgia. We already have a vineyard and a marani, and soon we will squeeze the grapes out and store it to age in Georgian kvevri. Any wine enthusiast will be able to come here, see how things are going, taste the wine and satisfy his curiosity in general."
Mr. Gerard, a Corsican man hopelessly in love with Georgian wine is a lawyer by profession; despite being a wine enthusiast in general, he never owned a vineyard before. Neither was he ever interested in the winemaking business, including that of France, but after getting acquainted with Georgians, he changed his mind and now tries to do everything to popularize Georgian wine in France.
Ilia Kakhoidze and Jermaine Gerard both think that if this popularity is achieved, Georgian wine will proceed to conquer the world. We are going to wait eagerly for that prognosis to come true, and in the meanwhile, interview the rugby-player-turned-winemaker Kakhoidze himself: