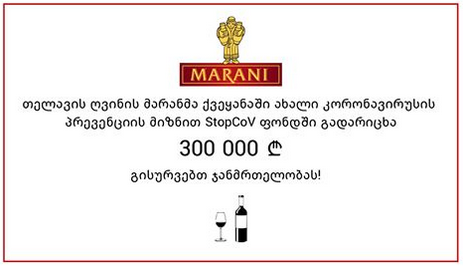 26.03.2020 (Hvino News) A leading Georgian winemaker Telavi Wine Cellar announced that it has donated 300,000 GEL to StopCov Fund.
"Given the current state of affairs in the country, on behalf of each Telavi Wine Cellar employees, we would like to thank physicians, health care professionals, police crews, government agencies and all those who work against the spread of OVID-19 around the clock", - reads the company's statement. "From the very first day of the virus spread, our company has been following the recommendations of the World Health Organization and the National Center for Disease Control and Public Health, primarily for the safety of our staff. Employees at risk groups work remotely, and the enterprise continues to operate with specific guidelines in place to ensure smooth production and timely delivery of quality wines you are familiar with. Our employees are dedicated and proud people who work for you, so stay home and protect your surroundings. Wish you health!"
The StopCov Fund was created on March 23 to help the poor and disadvantaged to get through the coronavirus crisis in Georgia. It can be found
at this link
. The Fund was created on the basis of the government's website launched to inform the public about the coronavirus and provide information about the measures taken by the government to prevent its spread across the country.
Dugladze Wine Company and brandy producer Sarajishvili announced 50,000 GEL donations.
© Hvino News
The First Saperavi World Prize: RESULTS