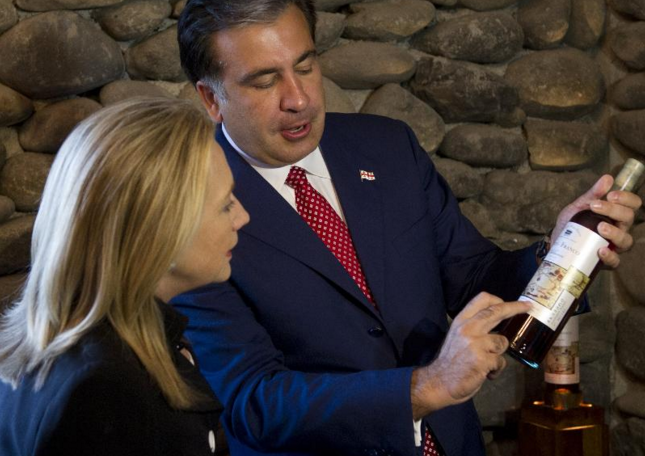 Photo: AUL LOEB/AFP/GettyImages
31.10.2016 (Hvino News). Today the leading U.S. business magazine
Forbes
published a small article focusing on Georgian wine.
The piece "'Ancient' Winemakers Georgia And Lebanon Grow Exports Into China's Thirsty Market" is by Jeannie Cho Lee MW, who is the first Asian Master of Wine.
The article is illustrated by photo of ex-president Mikheil Saakashvili with current U.S. presidential candidate Hillary Clinton.
Almost the whole of the article is devoted to Georgian wines:
"When Hugh Johnson, the inimitable British wine writer, coined the terms "old world" and "new world" to refer to wines from traditional European regions versus former European colonies, he left out the birthplace of wine: the ancient world. How else should we classify wine producing countries like Georgia, Lebanon, Armenia and Israel that are a few thousand years older than the "old world"? 
Georgia boasts itself as the "cradle of wine civilization" with winemaking culture going back over 6,000 years, several thousand years before the first vines were cultivated in Bordeaux, Tuscany or Rioja. The wines from Georgia were favorites of the former Soviet Union's power elite because of the quality and history of the wines, especially from the region of Kakheti. But a ban on Georgian wines by Russia from 2006 until 2013 meant the industry was forced to look for alternative export markets.