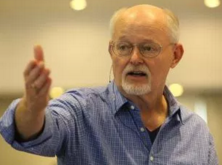 by Mike Veseth
12.10.2016. Sue and I recently returned from the United Nations World Tourism Organization's (UNWTO) first
Global Conference on Wine Tourism
in Tbilisi, Georgia and we are still processing the experience.
One interesting feature of the conference is that the sessions weren't confined to the usual convention center or hotel ballroom locations. The organizers boldly took the program on the road to four interesting wine tourist venues.
This experiment provided an interesting opportunity to talk about wine tourism while actually being wine tourists. Here is what I think I learned in the process.
First Impressions: A Georgian Supra
The conference opened with a gala dinner (hosted by Georgia's Prime Minister Giorgi Kvirikashvili) at the beautiful Funicular Restaurant, which is located high on the hill overlooking Tbilisi next to the television tower. The view from the patio was spectacular, especially as the sun went down and the lights came up, highlighting the monuments. It felt like you could reach out and the touch the city.
There was good Georgian wine at the dinner, but the focus more more on Georgian food, wonderful polyphonic singers and traditional dance groups. Professor George Bagashvili was the master of ceremonies and he explained all that we were seeing and hearing. He deftly led us through the traditional series of
supra
toasts, but in a tourist-friendly way (without the feared requirement to drain endless glasses or horns of high-proof
chacha
).
The gala dinner at the scenic restaurant was a reminder that wine tourism is first and foremost tourism and it is generally a mistake to think of it out of the context of other tourism opportunities. There will be some who will come to Georgia just for the wine, but most will be attracted by the complete package — sights, sounds, culture, people, food and so on with wine playing a larger of smaller part in each case. The dinner was a great introduction to Georgia's best and a good lesson that wine tourism is most effective when it is embedded in the broader context.
1011 and All That
We loaded into coaches the next morning and headed east toward Kakheti, the main wine region and the location of our first meetings. We stopped at the historic Alaverdi Monastery, were wine has been made using the traditional
qvevri
method since 1011.
We toured the monastery, visited the
marani
cellar with its
qvevri
vessels, and tasted one of the wines, a complex golden Rkatsiteli shown below. After the tour we adjourned to a cafe where we had coffee and cups of delicious
matsoni
(local yogurt) with local honey and walnuts (a fabulous combination).
The wine tourism here was seamlessly integrated into the cultural elements and featured local food products and the opportunity to purchase traditional crafts, too. A great tourist and wine tourist stop. And this is not an accident.
Georgia correctly sees tourism as an economic development opportunity, especially in rural areas like Kakheti. The Georgian government has worked to develop tourist infrastructure and marketing strategies in partnership with international development organizations including the World Bank, EBRD and USAID.
The Alaverdi Monastery is an example of how these efforts have come together successfully to leverage history, culture and wine to create real opportunities for local workers and producers while giving tourists a memorable experience.
Tunnel Vision?
If the monastery is a good example of adapting something quite old to create a wine tourism experience, our next stop showed a more contemporary touch. Khareba Winery offers a focused wine tourism experience built around a huge network of tunnels that date from Soviet days. The tunnels were reportedly built with military use in mind before eventually becoming a regional wine storage facility and now a wine tourist attraction.
Our afternoon conference session was held up at the Saperavi restaurant with its great view of the valley and then we walked down the hillside to the tunnel with its exhibits, wine tasting, and a group of polyphonic singers who filled the underground space with sound.
The tunnels are a noteworthy attraction, but there was more. A path meandered through the park-like grounds and along the way the visitor is offered the chance to bake bread in a traditional clay oven, watch
chacha
being made (and taste some, too), make
churchkhela
, which are strings of nuts dipped in concentrated grape must. A moveable feast was laid for us along with path with traditional dishes, including mountain trout and spit-roasted meat.
As at the monastery, the experience was orchestrated to create a complicated sensory experience filled with sights, sounds, smells and tastes mixed with a strong sense of Georgian culture. Wine was at the center of the experience, but there were many threads interwoven here.
A Georgian Chateau
Chateau Mukhrani, the conference venue for the final day, was built in 1878 and, as the vintage image suggests, it resembles a French chateau to a certain extent. The likeness has been heightened by recent upgrades aimed at enhancing wine tourism.
The grounds and the facilities are beautiful and the wines are good, too, made mainly in the international style under the supervision of Frenchman Patrick Honnef. We especially enjoyed the Reserve du Prince Saperavi that was served at the closing dinner
The reaction of some of the international conference participants was noteworthy. What is a French chateau doing here? Why isn't this winery made along traditional Georgian lines, like the monastery, for example? The winery's architecture, which most visitors will find appealing, was a turn-off to those seeking greater authenticity.
So why the disappointment? I think it is a example of something that I call the "globalization paradox." We love globalization because of its ability to bring things from all around the world to our towns and cities. Good espresso, authentic wood-fired pizza, designer shops — it is great to have these things nearby creating a cosmopolitan local environment.
But there is a downside. Everyone wants these things and for the most part they get them. This means that when we travel abroad we see many of the same things we already have back home and not the quaint frozen-in-time images that we expect.
Globalization makes the local more diverse and interesting, but the foreign is rendered less exotic and disappointingly more like home. Sigh. Do you see how a French chateau in Georgia fits this pattern? It definitely adds to the wine tourism experience in Georgia, even if it takes away a bit from the experience that the seasoned international traveler may be seeking.
This video will give you a sense of Chateau Mukhrani and how it has been designed to serve as an attractive wine tourist destination. It is good to remember that wine tourists are a diverse group and a great many of them will enjoy visiting a chateau … even if they do it in Georgia, not Bordeaux.
>><<<
How did the conference's experimental format work? As you might expect some venues worked better than others for particular purposes. And I am not sure that everyone realized that we were both discussing wine tourism and practicing it at the same time, meaning that some teaching moments were probably lost. But I applaud experiments like this and hope the organizers continue to innovate at next year's UNWTO meeting in Mendoza, Argentina.
>>><<<
A quick shout-out to George Piradashvili and the staff at Chateau Mere, where we stayed during our brief tour of Kakheti after the conference. Chateau Mere is a good example of how wine tourist infrastructure can be creatively developed to serve diverse visitor needs. Personal thanks to George for sharing his great food, fine wine, and Georgian wine business insights with us.
ABOUT THE AUTHOR
Mike Veseth is editor of The Wine Economist and the author of many books, including Wine Wars (2011), Extreme Wine (2013) and Money, Taste & Wine: It's Complicated (2015) Mike is professor emeritus of International Political Economy at the University of Puget Sound.
To add this Search Box to your website, click here. Many designs are available.