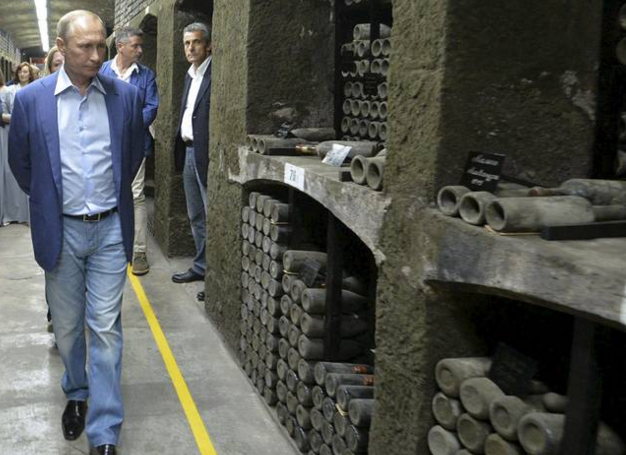 Photo: A. Druzhinin RIA Novosti
17.10.2016. Georgian wine exports to the Russian Federation may decline. Higher taxes will create problems to distributors and producers. It is not known when exactly the new rate will come into force, but the working process was intensified in this direction.
Russia plans to double excise tax on wines. Ministry of Finance of Russia has already submitted due initiative to the government. The amendments are part of the 2017-2019 tax strategy project and it will not supposedly refer to sparkling and fruit wines. The information was published by the
Commersant
Russian newspaper. Meanwhile, Georgian winemakers expect that wine exports to Russia will decline after growth in wine imports excise tax.
Under the project, excise tax for imported wines will increase to 18 Rubles from 9 Rubles per liter, while the rate will rise to 10 Rubles from 5 Rubles on wines with geographical indications protected by Russian brands.
Pavel Titov, President for Wine House Abrau Durso: Higher excise tax will cut wine consumption and decrease domestic production and hinder imports replacement process.
Maxim Kashirin, President for Simple wine importer company, said that higher excise tax will reduce consumption of more expensive and imported wines.
«This is very bad signal for our business that currently is in unfavorable condition amid currency exchange rate fluctuations and demand reduction», the businessman said.
Caucasus Business Week
was interested in how higher excise tax may affect Georgian winemaking companies. A majority of heads of winemaking companies noted that this decision will bring negative effect, but not destructive.
Mikheil Khundadze, director for Georgian Wine Corporation, said that it is difficult to talk about what we do not know definitely in advance. It is impossible to determine preliminarily how the market will receive it. «Naturally, if excise tax grows, importers will have to supply products at higher tariffs and the market realities depend on consumer conduct. Based on economic factors, when something grows in value, its consumption declines», Khundadze noted.
The company exports a major part of its wines to the Russian market, he said.
Zurab Margvelashvili, Tbilvino's director general, explained that this decision will make quite negative impact on Georgia and Georgian companies.
«As a rule, higher taxes and prices do not bring positive results, even more so there is crisis in Russia, solvency of population has declined. Therefore, any growth in tariffs will negatively affect sales indicators», Margvelashvili noted.
Badagoni's director Gia Shengelia explained that the mentioned decision will negatively effect Georgian winemakers. Namely, Russian distributors may ask Georgian winemakers to lower product tariffs. As a result, Georgian winemakers will have to bear losses. Moreover, if product prices grow in retail sector, sales will decline definitely, he said.
«If wine price grows, Georgian wine sales will be suspended, in practice, because market competition has sharpened because of wines imported from Crimea and Abkhazia», Shengelia noted.
Russian market accounts for 35-40% in Badagoni company exports, Shengelia said. Zurab Chkhaidze, head of Kakhetian Traditional Winemaking, also expects negative results from the mentioned decision.
Over the past years the Russian Federation has been trying to develop winemaking sector and viticulture and the Russian Authorities pay much attention to the domestic production development. However, the mentioned decision will not extremely affect Georgian wines, he said.
«We do not expect good results, but this is not tragedy», Chkhaidze noted.
Russian market accounts for 35-40% in total exports of Kakhetian Traditional Winemaking, he added.
Since Russia ranks first among Georgia's wine exports markets, the CBW also asked National Wine Agency to comment on the mentioned initiative. The agency director Giorgi Samanishvili abstained to make analysis at this stage. This is only idea and initiative, he said.
"It is very difficult to analyze what will be effect on the Georgian market. It is only idea and this is less important. When the Russian Authorities adopt these changes, I will comment then", Samanishvili noted.
According to the National Wine Agency, as of August 2016, Georgia exported 28 156 547 bottles of wines to 46 countries (in 0.75 liter bottles), up 42% year on year. In the reporting period, the exports value made up 64.8 million USD, up 16% compared to the same period of 2015.
Exports have increased to EU countries, China and other traditional markets: China – 184% (3 368 361), Ukraine – 75% (3 042 192), Belarus – 47% (667 656), Russia – 45% (14 664 610), Poland – 34% (1 367 960), Estonia- 39% (413 364), Kyrgyzstan – 107% (163 966), the USA – 10% (171 316) Japan – 12% (101 448), Great Britain – 65% (67 522), Latvia 9% (772 926) and so on.
As of August 2016 Russia ranks first among Georgia's top five exports countries. Top five exports markets are as follows: Russia (14 664 610), China (3 368 361), Ukraine (3 042 192), Kazakhstan (2 287 826) and Poland (1 367 960).
To add this Search Box to your website, click here. Many designs are available.