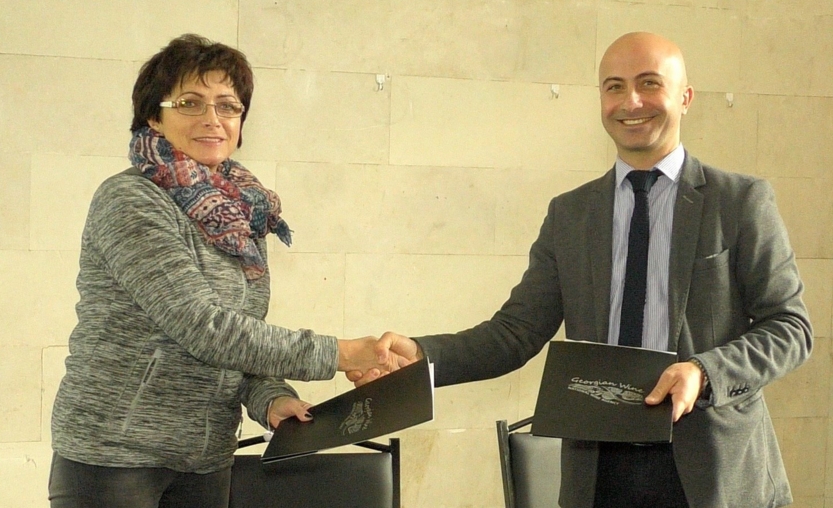 25.10.2016. Wine lovers in Poland and especially those who are mostly interested in ancient winemaking methods will soon learn about Georgian wine and its rich history.
New subject was added to the curriculum of the Wine Academy of Poland, enabling the students to learn about Georgian wine culture and history.
Georgia's Agriculture Ministry and the Viticulture and wine-making development fund of Poland (Galicja Vitis) signed a Memorandum of Collaboration (MoC) yesterday in Georgia's capital Tbilisi.
The MoC aimed to promote Georgian wine in Poland with various marketing and educational activities.
"Poland is one of our important markets and generally, Georgian wine has a great potential in this country and especially when the wine tourism is progressing every year in Poland," said head of Georgian National Wine Agency Giorgi Samanishvili.
The Wine Agency will provide the Wine Academy of Poland with information about Georgian wine and advertisement materials which are necessary for the lectures.
Samanishvili hoped the MoC would help further popularisation and increase of exports of Georgian wine to Poland.
On the other hand Polish wine writer and oenologist Wojciech Bosak, who is also representative of the Galicja Vitis, stated Georgian wine was very popular in Poland and there was a wide range of Georgian wines available in Polish shops, restaurants and wine houses.
"Georgia is becoming more and more popular destination for Polish tourists, wine tourists, for people who are interested in visiting vine-yards, wineries, meeting with wine producers and of course tasting wines," Bosak said.
"The goal of our small foundation for development and promotion of viticulture is to educate people about wine, inform wine producers and also consumers or lovers of wine. We will introduce Georgian wine to the students of our professional wine school-academy", he added.
In his words there was a great interest towards Georgian wine and some of the wine-makers started to produce wine according to Kakhetian technology.
"Of course the result is not such spectacular as original Kakhetian wines, but it is the first step," said Bosak.
Poland is one of the important export markets for Georgian wine, where over 1.6 million bottles of wine was exported in the first six months of 2016.
This was 47 percent increase year-on-year, said Georgian National Wine Agency.
Source
To add this Search Box to your website, click here. Many designs are available.