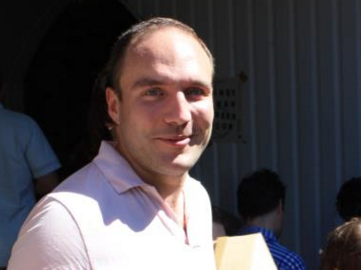 by Nino Gugunishvili
13.10.2016. Gordon Ramsay, Martin Blunos, Nuno Mendes, all those Michelin-starred celebrity chefs and their restaurants have been part of Romaine Audrerie's amazing career journey. Now a head sommelier of wines at one of London's iconic restaurant's, Chiltern Firehouse, Audrerie came to Tbilisi this month to discover more about the Georgian wine culture, possibly adding some new wine brands to his portfolio. His trip was organized by Mako Abashidze, founding director of the British Georgian Chamber of Commerce.
As a part of their marketing strategy in partnership with the Georgian National Wine Agency, the British Georgian Chamber of Commerce often brings head sommeliers, food and wine writers to Georgia to promote the country through its wine and cuisine.
Georgia Today
met Romaine Audrerie at Rooms Hotel Tbilisi, which he described as very comfortable and homely, to find out more about his career, his trip to Georgia and Georgian wines.
How did you end up choosing the profession of sommelier?
I was passionate about my studies in University in political sciences and communication lobbing. I graduated after five years in Bordeaux and Paris. It was in Bordeaux I suddenly discovered my passion for wine- I was just a happy drinker. But I really got into the trend of learning the details of names and discovering the new things happening in the wine world when I was still in Bordeaux. After my studies I couldn't get the job I wanted because my English wasn't good enough, so I went to London to learn. Within a year of living in the UK I found myself working with Martin Blunos in my first Sommelier position at the Lygon Arms. Soon, I became the Head Sommelier at the Savoy for Marcus Wareing, in the Gordon Ramsay group- a Michelin star restaurant with an extensive group of sommeliers and a big wine list. I then spent a year in New York selling wine, so I got to know the New York market and the differences between it and the UK, as well as their vastly different portfolios. You know, New Yorkers are always ahead of London and ten years ahead of everybody.
Why do you think it happens so?
Because it has that cosmopolitan vibe. Because of the communities there- Turkish, Greek, Italian; all bringing their wines to New York. I really benefited from this obsession New York Sommeliers have of getting the latest new things. That is also what I want to show in my wine list at the moment; the best from everywhere, whether it's from Crete or Nappa Valley, Languedoc in France or South Africa. After 10 years as a wine director, I know who can bring me the best things. I've extended my portfolio of suppliers to 45 so now I can cherry-pick the best of everybody. I'm also using some suppliers to source things outside the country, importing for restaurants. I think the wine list at Chiltern Firehouse can talk to anyone. I really wanted to have a wine list as democratic as possible in a luxury environment.
What does a sommelier need for success?
To be completely crazy! You have to wake up with your passion for wine and then study the latest trend list sent to you by email. You go to work, you go to wine tastings and you come back late and think about all the new amazing things you have discovered. I cannot recount the hours I've spent in guidebooks, making sure I know the portfolio of each winemaker. However many doors you open and the more questions you answer, the more questions that come- it's endless. You need to be addicted to that endless learning curve. You need to be entertaining, you're on show, and you're on stage. You need to put on your costume and entertain. That's the second part. You also need to make sure you're not intimidating your customer or pushing him for sales.
What is your most ambitious project?
To be the Head of Wines for Andre Balazs Hotels. I want to go to Los Angeles to see the wine list, wine facilities, cellars; to check out the training that's being given, look at the wine culture in the restaurant and than diffuse and spread what I've created in London. All the waiters in a team want to attend my trainings. I want to activate that curiosity in waiters. My ambition, of course, is to be the director of a company and go from one branch to another and make sure that all the wine culture is been adapted.
How did you come to be in Georgia?
I knew a few brands from my New York experience. I knew some wines that I liked, and some that I didn't like at all. The perception of Georgian wines is only reflected through the eyes of some very hipster sommeliers who want natural wines whereas I wanted to show variety. I think we need to show Georgian wines for how good they are and how well they pair with food. It's not just an exotic thing, it's a cultural thing that needs to be brought, shown and explained to the western countries, because it's worth it. It's very sophisticated and luxurious, well-balanced and surprisingly good.
Which is your favorite?
Kakhuna, by Lagvinari.
What needs to be done for Georgian wine to be more promoted and popular?
I think a much more simplistic approach is needed in the visual characterization of the labels. And it's very easy to do. Labels must be readable- grape, producer, region, country. It has to be simple, beautiful and elegant. But we want to see your beautiful alphabet, too. That's very important. As a sommelier you open your eyes, you want to promote your wines; you become an ambassador of the country and promote its wine. I think there are huge opportunities for Georgia to start promoting its wines, like Japan is doing with Kyushu wines, like Spain is doing in New York, or what Austria did with Grüner Veltliner 15 years ago. They did such a good job that everybody wanted it everywhere. It is a ten-year job, and to start we have to find the right suppliers who will be keen to take the risk to buy quantities, to get the best price and send sommeliers.
Georgian wine has something practical for sommeliers- it tells the story of itself. And pairing Georgian wine with food is so easy! Today, I had Kvevri Rkatsiteli with salmon; the best new pairing I've found for a long time. Georgian wine needs to get out into the world. It needs to show! When I tasted it today I thought: Aquavit London!
Do you already have Georgian wines on your list?
Yes, we do. Saperavi and Tsolikauri from Lagvinari winery. Georgia is bringing exclusivity and as a sommelier you need to surf in the way of trends of exclusivity because it will bring value to your wine list.
Which Georgian dish did you like most?
Wild mushrooms in Kakheti, at Shumi, with beautiful herbs and parsley- it was amazing and with an accompanying view over the Caucasus Mountains! It's all about a systemic approach of the experience you're having.
Which wineries did you visit?
I visited Badagoni, Shumi and Maranuli. We had a very interesting wine tasting and I'm expecting to receive more samples soon.
Do you plan to come to Georgia again?
Yes, I would very much like to see Imereti region. I need to see western vineyards, because, as I said, once you open the doors, there another ten doors to open in front of you. I've only just entered the world of Georgian wine!
To add this Search Box to your website, click here. Many designs are available.