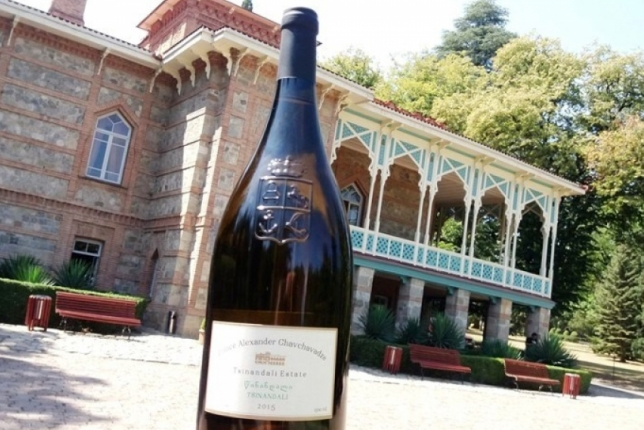 02.10.2016 (Hvino News). The European winemaking technologies were introduced in Georgia in the 19-th century at Alexander Chavchavadze's Tsinandali Estate
▼
Map
,
in Kakheti region. Alexander Chavchavadze (1786 - 1846) was Georgian nobleman, notable poet and military figure of 19-th century.
Georgian wine was bottled for the first time at Tsinandali Estate. After years-long break, the estate regained its primary function. Under the patronage of Silk Road Group (SRG) it started reviving the old tradition of winemaking and producing original Tsinandali wine.
As Silk Road Group manager Koka Archvadze commented, Tsinandali Estate is a place where the modern Georgian winemaking emerged. Alexander Chavchavadze established the classical winemaking technology and gave birth to the first Georgian bottled wine. In addition, according to the representative of SRG, apart from classical bottled wine made according European technology, Tsinandali produces traditional natural wine, that is fermented in
qvevri
.
"Two distinguished winemakers work at our land: David Maisuradze and Giorgi Barisashvili", - added SRG's representative.
Tsinandali vineyard boasts over 11 varieties of Georgian vine, yet at present only four types of wine are available at the market: Tsinandali; Dry Saperavi 2014 aged in oak barrels; White Dry "Qvevri"; semi-sweet Saperavi. The estate also produces high class
chacha
(Georgian grappa) and various sorts of aromatic fruit brandy.
Tsinandali wines are produced in limited amounts and are available at Tsinandali tasting room and in the shop located on the first floor of Radisson Blu Iveria Hotel in Tbilisi.
The Silk Road Group is a major private investment group active in the Caucasus and Central Asian regions, with interests in different sectors of the Georgia's economy, including transportation, trading, real estate, retail, telecommunications and banking.
© Hvino News
To add this Search Box to your website, click here. Many designs are available.