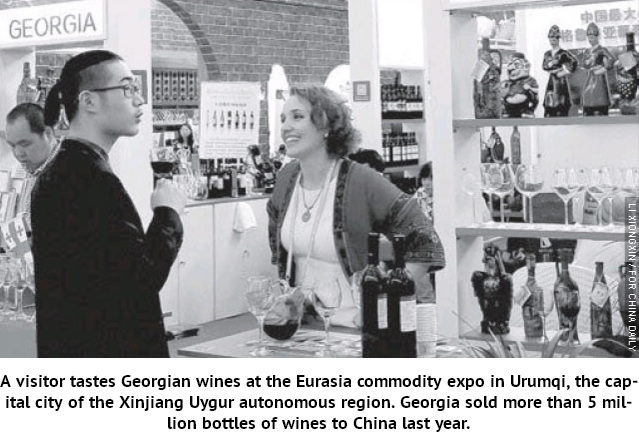 by Mike Peters and Zhong Nan
22.09.2016. A day after China and Georgia announced they will sign a free trade agreement later this year, Georgia's agriculture minister said the two countries' wine industries will quickly be big beneficiaries.
"Our countries have a special relationship that goes back to the Silk Road era and before,"said Levan Davitashvili, who took a break from Georgia's ongoing election campaign to discuss the news with a group of visiting Chinese journalists.
"Today the tariff on wine imports in China is 48.5 percent, but after the FTA goes into effect next summer, it will be zero," he said. "There will be big benefits for both countries, especially for Chinese producers who will be doing joint ventures in Georgia".
"We have free trade agreements with one-third of the world, including the European Union, Turkey and Russia, so 'Made in Georgia' products will open a great window for Chinese companies," said Davitashvili.
Wang Shouwen, Chinese vice-minister of commerce, said as negotiations on the China-Georgia Free Trade Agreement will be completed soon, China is willing to deepen economic cooperation with more countries along the Belt and Road Initiative.
The Chinese government deems free trade agreements as a new platform to further open the economy and accelerate reforms, and as an effective approach to integrate into the global economy and strengthen economic cooperation with other economies.
For Georgian companies, Davitashvili noted, the wine industry has a big head start, thanks to an investment of about $500,000 his country has made to tell the story of Georgian wine in China.
"Four years ago, we had a target to become 1 percent of total Chinese wine imports, which at that time was about 300 million bottles," he said. "We have already reached that goal, selling 5 million bottles to China last year. Our target now is to be selling 20 million bottles annually five years from now."
Georgia claims the title of the "cradle of wine", with a tradition of winemaking that archaeologists have documented going back 6,000 years.
The country also has 525 recognized grape varieties, but the bulk of wines that go to China are the rich, red-black vintages of Saperavi.
Source
To add this Search Box to your website, click here. Many designs are available.