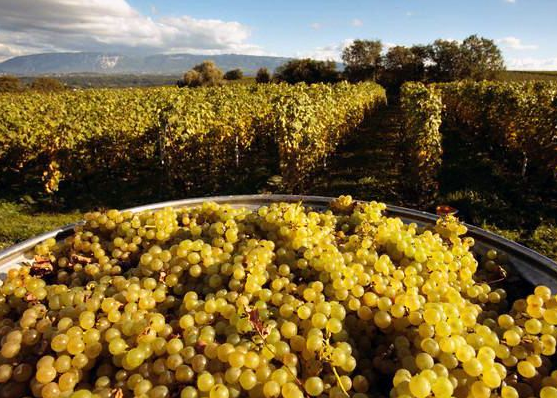 03.09.2016. This year's grape harvest has begun in Georgia's eastern Kakheti region.
More than 1,850 tons of Rkatsiteli grape and more than 1,110 tons of saperavi has been processed in Dedoplistskaro.
Wine producing companies pay 80 tetris (
tetri
is 0.01 GEL) for saperavi, 35 tetris for rkatsiteli and mtsvane grapes.
The government adds a subsidy, which is 20 tetris for saperavi and 45 tetris for rtkatsiteli and mtsvane. As a result, winegrowers will get one GEL for a kilogram of saperavi and 80 tetris for a kilogram of rkatsiteli or mtsvane.
Some winegrowers are unhappy with the prices and think they are too low, especially the rkatsiteli price. Locals from the village Chandari say they think one kilo should cost at least one GEL. Some of them told the newspaper
Rezonansi
that with the government subsidy it won't be that hard for them to sell the harvest.
"I cannot be dissatisfied. That would be ungrateful of me. Even if they help us with five tetris, it is a gift from the government and we have to value it," winegrower Otar Berdzenishvili says, adding that 45 tetris is not a small subsidy, but the rkatsiteli price is lower than last year.
Minister of Agriculture Otar Danelia August 24 opened a headquarters in Telavi to coordinate the grape harvest and announced this year's government subsidies. He said that in Racha-Lechkhumi and Kvemo-Svaneti, the subsidy will be 2 GEL for Mujuretuli-Aleksandrouli grapes.
Before 2015, the government distributed the subsidy to the companies, but this will be the second year the government subsidy is given to the winegrowers.
The amount of subsidy has increased compared to last year. In 2015, one kilogram of rkatsiteli and mtsvane was 35 tetris, while one kilo saperavi was subsidized by 15 tetris.
The government spent at least 30 million GEL to subsidize the harvest in 2015. Winegrowers had an income of more than 102 million GEL.
National Wine Agency's Giorgi Samanishvili said the grape harvest this year is smaller than last year, and the reason is powdery mildew, but the harvest was mostly saved and the quality is good.
125 companies will be involved in grape processing this year, according to him.
Last year, 148,358 tons of grapes was processed, worth more than 107 million GEL. In 2014, 122,920 tons of grapes was processed, while in 2013 92,366 tons.
Source
To add this Search Box to your website, click here. Many designs are available.