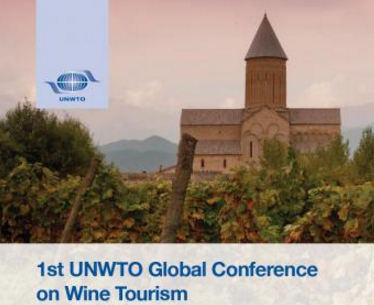 06.09.2016. For the first edition of a UN-organized conference on wine tourism, leaders will gather in the cradle of winemaking next week to discuss the burgeoning industry and its importance in local heritage.
It's a strategic and significant decision to hold the first edition of the UNWTO Global Conference on Wine Tourism in the South Caucasus country of Georgia instead of bigger and more popular wine tourism destinations like France, Italy, Spain or Australia.
By choosing Georgia, organizers are returning to what some experts have described as the birthplace of winemaking.
Evidence of winemaking traditions have been traced back 8,000 years among archeological records found in Georgia, well before reaching Western Europe.
At the conference, experts and industry leaders will discuss the development of a Wine Tourism Prototype, a model that will focus on the integration of wineries in the local cultural, economic, social and environmental heritage.
Sessions will be hosted at different wineries in the Kakheti, Georgia's main wine-producing region.
The conference will also invariably help promote Georgian wine and the country's unique winemaking traditions which were inscribed on UNESCO's List of Intangible Cultural Heritage of Humanity in 2013.
Traditional Georgian winemaking entails storing and aging wine in large, egg-shaped clay pots called
qvevri
. Likewise, winemaking is a family affair in Georgia, with many households producing their own homemade batch.
"Knowledge and experience of
qvevri
manufacture and wine-making are passed down by families, neighbors, friends and relatives, all of whom join in communal harvesting and winemaking activities," reads a UN profile.
"Children learn how to tend the vines, press grapes, ferment wine, collect clay and make and fire
qvevris
through observing their elders...Wine plays a vital role in everyday life and in the celebration of secular and religious events and rituals. Wine cellars are still considered the holiest place in the family home."
The UNWTO Global Conference on Wine Tourism takes place September 7-9. [
Hvino News
will take part in the conference and provide coverage. Stay tuned!]
Source
To add this Search Box to your website, click here. Many designs are available