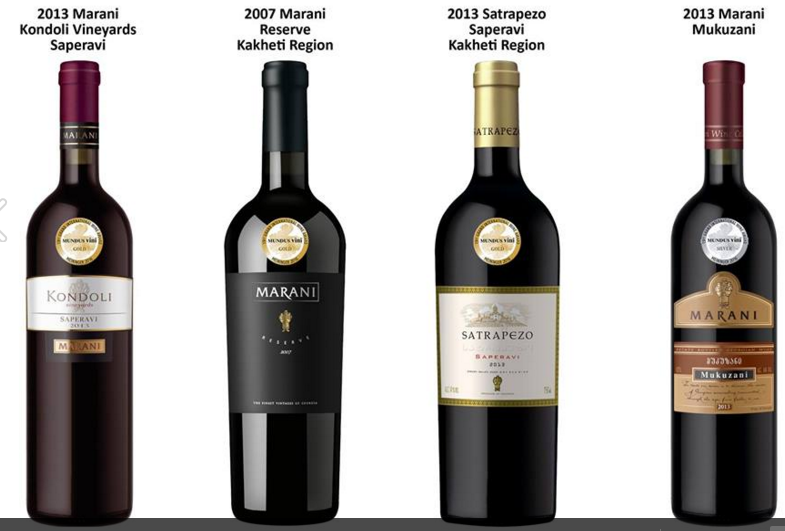 23.09.2016 (Hvino News). Georgian producer Telavi Wine Cellar (Marani) won 3 gold and 1 silver medals at prestigious Mundus Vini 2016 Summer Tasting in Germany. The awards were announced recently.
Telavi Marani was the only Georgian producer to win awards at this summer's Munus Vini. The following wines of Telavi Wine Cellar are the winners:
Gold:
Marani Kondoli Vineyards Saperavi 2013
Satrapezo Saperavi 2013
Marani Reserve 2007
(+"Best of Show Georgia")
Silver:
Marani Mukuzani 2013
In addition to gold medal, "Marani Reserve" was also named as "Best of Show Georgia".
"This year's results again show that better and better work is being done in both top and more affordable wines, and that consumers are able to enjoy a general increase in the level of quality", - commented the head of tasting at Mundus Vini, quoted by Telavi Marani.
The Mundus Vini International Wine Award is one of the most prestigious wine awards in the world. It is held annually in Neustadt an der Weinstraße in Germany. 4300 wines from all over the world were presented in 2016, with a 150-strong jury with members from 38 countries.
Founded in 1915, Telavi Wine Cellar is one of oldest wine producers in Georgia, located just outside the city of Telavi
▼
Map
in Kakheti region.
© Hvino News
To add this Search Box to your website, click here. Many designs are available.