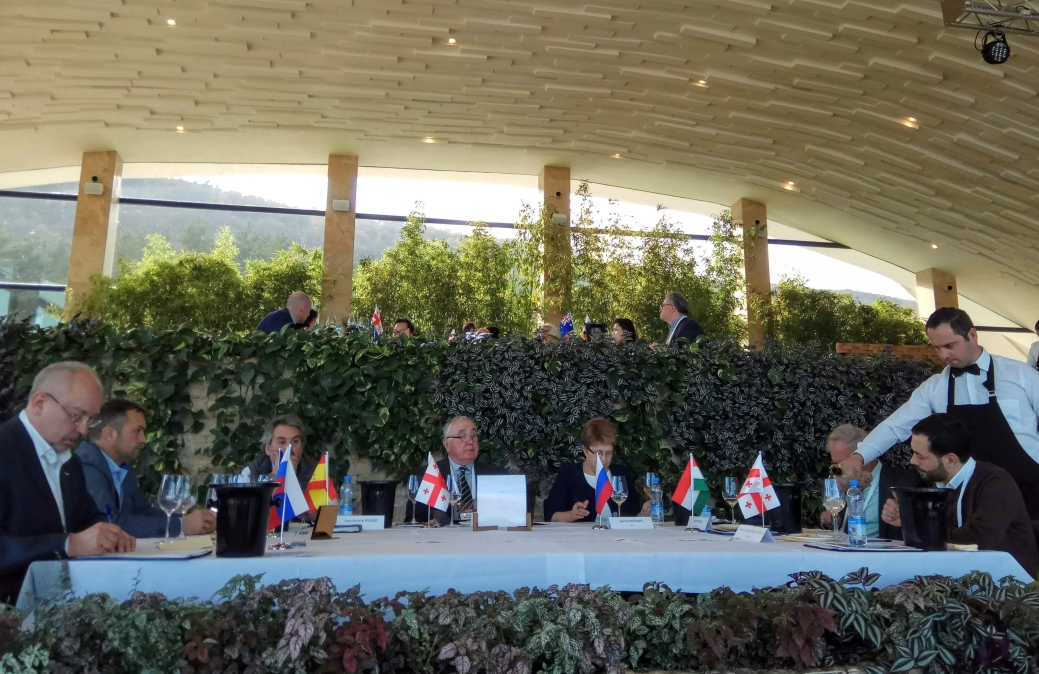 13.11.2018 (Hvino News). International competition of wines and spirits
EAWSC "Georgia – Homeland of Wine"
was held under the patronage of OIV, in accordance with strict rules of international wine contests. The contest was organized by the Oenologists Union of Georgia. The international operator of the competition was the Moldovan company PPE, the owner of the brand "Eurasia Wine & Spirits Competition".
The competition was attended by companies from Russia, Moldova, Georgia, Hungary, Slovakia, Czech Republic, Romania, Israel, Ukraine, Kazakhstan, Azerbaijan. In total 202 samples have been presented.
According to the results of the contest, 58 awards were awarded: one medal "Grand Prix", 3 Great Gold medals, 31 Gold Medals, 23 Silver Medals.
The Grand Prix Medal was awarded to the Moldovan brandy Divin "Imperiul călărași" (50 years), earning 96.9 points.
Three gold medals "Great Gold" were awarded to the wines of companies Vazi+ , Götz Winery and Wine Company Shumi.
The organizers noted that for the first time in history of wine contests the Georgian
qvevri
was so broadly represented - with 52 samples.
The full list of awards follows below:
| | | | | |
| --- | --- | --- | --- | --- |
| | Divin "Imperiul CălărașI" 50 Years | | | |
| | | | | |
| | 2013 Tokaji Aszú 6 Puttonyos | | | |
| | | | | |
| | | | | |
| | | | | |
| | | | | |
| | Shalva Gvaramadze Winery Khikhvi | | | |
| | Rkatsiteli Qvevri Reserve 2017 | | | |
| | Shalva Gvaramadze Winery Tsarapi | | | |
| | | | | |
| | | | | |
| | | Vakhtang Beruashvili Family Wine Cellar | | |
| | | | | |
| | | | | |
| | | Vakhtang Beruashvili Family Wine Cellar | | |
| | Chateau Pezinok Sauvignon | | | |
| | Colli Di Luni Vermentino Sarticola | Azienda Agricola Federici | | |
| | C`Est Soir, Busuioaca De Bohotin | S.C. Agro Industrial Ceres Srl | | |
| | | | | |
| | | | | |
| | Hillside - Classico White Desert Wine | | | |
| | | | | |
| | | | | |
| | | | | |
| | | | | |
| | Saperavi. Chateau Tamagne Reserve | | | |
| | | | | |
| | | | | |
| | Honey Distillate "Midamo" | | | |
| | | Vinárske Závody Topoľčianky | | |
| | | | | |
| | | Vinárske Závody Topoľčianky | | |
| | Old Kakheti, Georgian Brandy 17 Years Old | Kakhetian Traditional Winemaking | | |
| | | | | |
| | | | | |
| | | | | |
| | | Vakhtang Beruashvili Family Wine Cellar | | |
| | | | | |
| | | | | |
| | | | | |
| | | | | |
| | | | | |
| | Valpolicella Doc Superiore | Azienda Agricola Vicentini Agostino | | |
| | Veltlinske Zelene Neskory Zber | Vinárske Závody Topoľčianky | | |
| | | Vinselekt Michlovský A. S. | | |
| | | | | |
| | | | | |
| | | | | |
| | | | | |
| | | | | |
| | | Jsc Corporation Kindzmarauli | | |
| | | | | |
| | | | | |
| | | | | |
| | | | | |
| | | | | |
| | Mademoiselle Rose, Petiant Rose | S.C. Agro Industrial Ceres Srl | | |
The First Saperavi World Prize: RESULTS