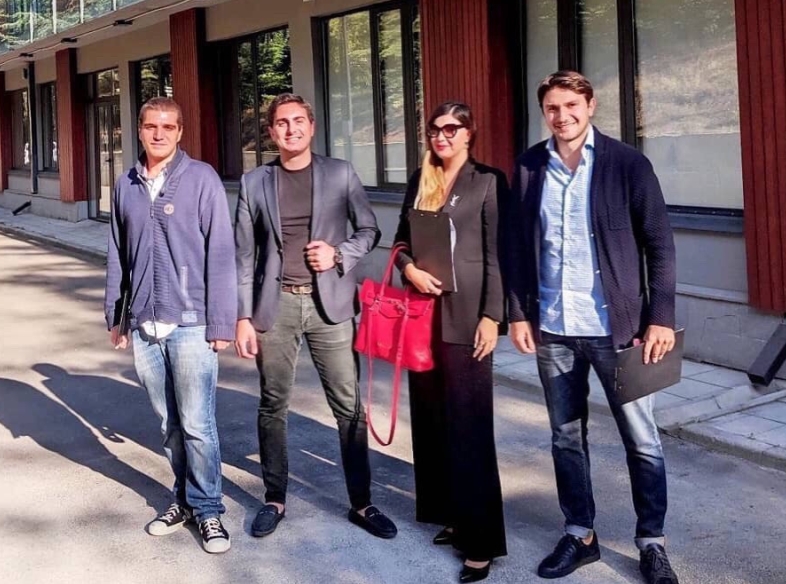 30.01.2020 (Hvino News). A Georgian wine project presentation during World Economic Forum in Davos sounds like quite an extraordinary event. Even more surprising is that the brand - Vault Wines - is new and little-known. In fact, it is a startup initiated by a group of young people.
Hvino News
asked the leaders of Vault Wines some questions. We hope that answers provided by Ana Mirianashvili and Irakli Eliashvili will help our readers better understand the concept of this unusual project.
First of all, please clarify for our readers, what is Vault Wines – a technology startup, a wine brand, or a wine resort?
Vault Wines is an open collaboration between Vault Wines team, Chelti Winery and KTW group to launch a new blockchain based winery supply chain management and authentication system, online retail store and a new luxury wine brand. Vault Wines targets small/medium sized global winery market for the software side of operations and exclusively ultra premium wine segment for luxury wine brand, as well as, expanding partnership and distribution channels internationally.
Vault Wines uses blockchain technology and advancements in modern supply chain management systems to increase the efficiency and reduce the cost of production for partner wineries. Vault Software allows wineries to provide its customers with a unique QR code hologram for each bottle with full product passport information to safeguard wines from fraud and gain competitive advantage on the market. Vault Supply Chain Management software aims to become mainstream winery supply chain management software for small/medium sized boutique wineries that cannot afford expensive ERP solutions and can use traceability features to add value to their product.
Additionally, Vault Wines launches Vault Retail, an online retail store with own storage and
distribution across Europe, Russia and China, acts without intermediaries and delivers product to the customers at the best quality/cost ratio on the market.
Vault Wines Luxury Brand is a pilot project to demonstrate software and technological capabilities of the Vault software. Company's mission is to showcase first fully authenticated award winning wines in Vault portfolio, validate Vault Retail's customer reach on the global market, test and scale Vault's storage and logistical capabilities, increase bargaining power and brand awareness of Vault Wines for rapid scaling, while negotiating for additional partnerships.
How did your project start, and who are the initiators? Was it easy to find support and investment? Tell us more about your team.
Vault Wines have 4 initial founders: Irakli Eliashvili, Ana Mirianashvili, Sandro Chkhaidze and Tornike Panjavidze (see photo). After Swiss Venture Capital invested in the project, they became the shareholders as well.
Vault Wines project was conceived in August of 2018. Since the fall of 2018, Vault Wines joined IE Business School Venture Lab Accelerator for idea validation, coaching and foreign exposure. During the first 6 months' period, Vault Wines team did research on the key issues in global wine trade and its current distribution methods, spoke with multiple distributors of Chelti Winery and KTW Group to better understand logistical side of winery sales operations, conducted surveys to understand the initial customer segment and premium wine price points.
Vault Wines business model and team building have been finalized in March 2019. The project has been selected as the finalist of IE Business School's globally acclaimed Venture day startup competition and at IE Business School Graduation day has been named as 1 of 8 most innovative Venture Lab start-ups of the past year.
In October 2019, Vault Wines Project has won CVVC Incubator Competition, and joined CVVC Labs on 10 week acceleration program and pitched the project during World Economic Forum in Davos.
CVVC (Crypto Valley Venture Capital) is highly prestigious, next generation Venture Investment company based in Zug, Switzerland. Vault Wines won the second Batch II intake competition with the success rate at 1.7 %. 10 startups were selected and have relocated to Zug for the ten-week program. Each startup will receive $125k in funding.
You offer blockchain-based wine authentication and asset management. Wine authentication based on blockchain technology is something we understand, as it already exists in other countries. But what do you mean by winemaking asset management?
Vault Software will provide features modules to its customers. Small wineries don't have enough resources to buy and implement ERP software. Vault software will include following modules: accounting, distribution and supply chain.
Vault software will be a simple solution for wineries to track their business. Implementing Vault software will start from uploading and creating databases that the software will use. Customers, suppliers, inventories, prices, COGS, and employees of the company will be uploaded from an excel file.
Thank you for answers, and good luck!
© Hvino News
The First Saperavi World Prize: RESULTS