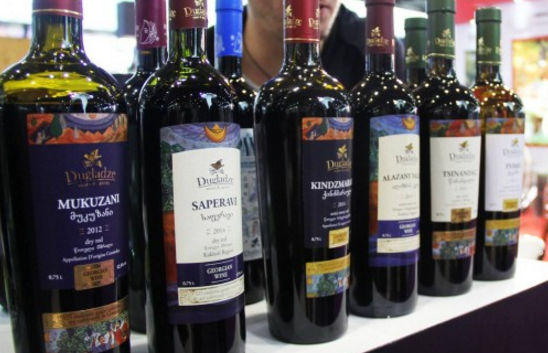 15.01.2016. The history of Dugladze Wine Company is related to the name of Dimitri Dugladze, who has made much contribution to the development of Georgian alcoholic beverages. Today, his sons, Dugladze brothers, continue his undertakings.
The company manufactures a full assortment of alcoholic beverages made of grapes. The company has been long represented on the Georgian market by Royal sparkling wine. In export markets the company has introduced wines and wine brands.
Dugladze Wines & Spirits is an integrated enterprise with a full production cycle that produces wines, brand spirits, wine brands and sparkling wines. The winery is fully modernized and equipped with technologies of the world's recognized companies such as Setic, Della Toffola, Krones, Cavagninno & Gatti, Seitz Enzinger Noll. The company actively participates in various international exhibitions, contests and business forums. Dugladze Wine Company exports products to Russia, Ukraine, Kazakhstan, the USA, China, Estonia, Latvia and Poland. Givi Aronishidze, the marketing manager at Dugladze Wine Company talked with
CBW.
Was the year of 2015 successful for the company? Are the sales indicators satisfactory?
– The year of 2015 was full of innovations for the company. We have introduced two new varieties of sparkling wines and returned the old wine brands to the Georgian customer. I mean Vartsikhe, Gremi, Very Old, Eniseli and Tbilisi. We introduced these products in October 2015, outlined due plans and we are content with their fulfillment. Naturally, the next year will be more ambitious and full of big plans.
What is the domestic market's ratio in your sales? Is this ratio growing? In general, what sort of wines do Georgian consumers prefer amid the current social and economic situation?
– Before 2015, our company used to make focus on exports. In the second half of 2015, we introduced three varieties of Royal sparkling wine and seven varieties of wine brands with 3, 5, 7, 9, 12, 14 and 17 aging.
At the beginning of 2016, we will introduce our distinguished exports wines to the Georgian market too.
Which markets has Dugladze Wines & Spirits penetrated and which products are the most in-demand and sellable on exports markets?
– We export our products to many countries in the world and they are appreciated everywhere. Wines are the most in-demand and sellable products. Russia is a major exports market for our products. For the last three years, since the Russian Federation removed embargo on Georgian wines, our company is a major exporter on the Russian market among Georgian winemaking companies. This achievement stresses we produce high-quality products. Anyway, we have performed much job jointly with the national wine agency and other Georgian companies to make Georgian wines in-demand products in the Chinese market. We attend exhibitions, meet Chinese distributors and set up business contacts with many Chinese distribution companies. All these efforts have reaped real yields and we have already sent first consignments to China. We have big plans on the Chinese market to boost our sales as much as possible. Besides the mentioned countries, we export our products to Slovenia, Estonia, Ukraine, Kazakhstan and Japan.
Naturally, we will not stop on the achieved results and we will intensity efforts to increase the sales volume in these countries, as well as to penetrate new export markets.
You have introduced your products in a new packing this year. What factors have you led to the re-branding process and how much money have you spent on the re-branding process?
– Besides money resources, this sort of re-branding project has taken huge and zealous job of the company and the company personnel. Having explored the consumer behavior and demand, we realized we had to make changes in terms of company re-branding and packing the products. We have carried out the re-branding project that called for improving both the visual and qualitative aspects. Our company obtained ISO 22 000 certificate and strengthened the products quality aspects. Moreover, we continue the process of refining and improving all this process.
What are your plans for increasing the sales? Do you plan to increase the assortment?
– We have ambitious plans. Our objective is to become the market leading company in a short period. To this end, we have introduced seven varieties of wine brands and three varieties of sparkling wines. Naturally, we will continue our efforts for expansion. Our company will introduce our exports products to the domestic market. Specially for the Georgian market, we have developed table wine brand of Ranina. Its slogan is – Georgian Temper Poured into Song. The brand has already deserved much appreciation. In this short period, we have already received early orders.
Thus, we are saying goodbye to 2015 and meeting the 2016 New Year with these ambitious plans.
Source
To add this Search Box to your website, click here. Many designs are available.