05.02.2015 (Hvino News). The second Wine Cooperation Forum took place on 22 and 23 January 2015 in Kachreti (Kakheti region). This conference brought together many influential experts as well as policy-makers of the wine industry, including the head of Georgia's National Wine Agency, who made a presentation at the Forum.
The European Union and Georgia signed an agreement on "Deep and Comprehensive Free Trade Area" in June 2014, which will affect the long-term development of almost all economic spheres. Georgian producers and exporters will be offered free access to the EU market with over 500 million high income consumers. EU understands the importance of wine sector for Georgia, and offers cooperation and assistance programs in this field.
Within "Private Sector Development South Caucasus" (PSD SC) the project "Promotion of private sector development in the wine sector in Georgia" constitutes an integral part. PSD SC and its key partners established the Wine Cooperation Forum. The first Wine Cooperation Forum was held in April 2014 and has proven to be a useful tool for dialogue between state authorities and the private sector.
Hvino News
is honored to be among the partners of this international cooperation project, and today we welcome
Stefanie Maak of AFC Consultants International GmbH, one of key project organizers.
Stefanie Maak M.Sc.agr., Senior Project Manager at AFC, has kindly agreed to answer
Hvino's
questions.
You have just returned from the Forum in Georgia. Can you summarize your impressions for our readers?
The topics (
qvevri
wines and education/extension in viticulture) were highly relevant to the sector. Thus, the forum was attended by representatives from all steps of the wine value chain. As the lectures were given by a mix of national and international experts, the symposium gave a very interesting overview on different views and approaches how to foster Georgian wine.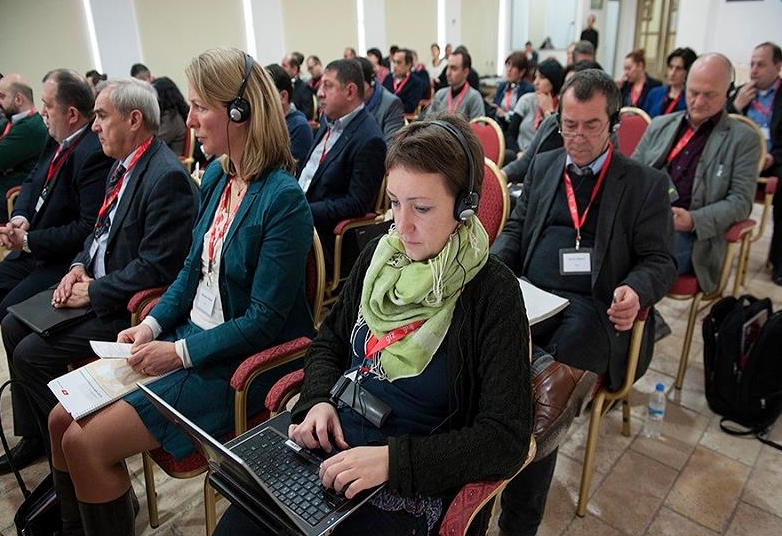 Photo: NWA
I was impressed by the dynamic discussions, especially when it came to qvevri wines. It became obvious, that this particular viticultural method, which could become a flagship for wines from Georgia, bears a lot of traditional, cultural and emotional aspects.
To us, the forum was a unique opportunity to meet all stakeholders and to present our project to them. It was very important to express that the project aims at a participatory cooperation with the Georgian stakeholders from the wine sector
Sometimes people refer to differences between Georgian and German mentality. Can you comment on this?
I envy the Georgians for their capability to live spontaneously. This is something, Germans often struggle with, since we tend to plan everything in detail. At the same time, I wish that within our project, we manage to share a bit of the advantageous clichés of German culture, such as looking ahead and organizing in advance.
We know this is a follow-up of projects started earlier. What lessons you have learned, and what do you want to be improved in 2015?
The wine value chain has already been supported through previous interventions by GIZ (Deutsche Gesellschaft für internationale Zusammenarbeit GmbH). In particular, AFC implemented the project "Introduction of a Quality Management Control System for Georgian Wine" on behalf of GIZ (2003 – 2008). This project had a focus on food safety and quality issues with regard to the export of Georgian wine to EU countries. It led to the successful establishment of a quality assurance system for wine, including an analysis laboratory in Georgia. Among others, the following results were achieved:
The Georgian Government was advised in the introduction and implementation of the necessary legal requirements for a wine quality assurance system according to EU standards, and based on the advice created the pre-conditions for a functioning wine quality assurance system.
Institutional arrangements to implement the wine quality assurance system according to EU regulations were implemented, and the established organisation was assisted through institution building measures.
Training of local viticulture and winery experts was improved, and the personnel to operate the wine quality assurance system were qualified in the various control measures and methods of analysis.
The wine quality assurance system, including the analysis laboratory, was established and began (in part) operating according to EU standards
The Georgian wine industry utilises the services of the laboratory as the basis for issuing export documents, for quality control and advice to private wineries.
Georgian research and training institutions began to tailor their services to the needs of the private wine industry.
PPP have been established and registered according to the Georgian corporate law.
Complementary to the achievements of the Quality Management Control project, the new project "Promotion of private sector development in the wine sector in Georgia" is geared towards the development of additional working areas that have been identified as bottlenecks still unresolved in the Georgian wine value chain. These working areas are as follows:
implementation of a Qvevri Cluster;
development of a cadastre system for vineyards;
support to the National Wine Agency (wine law harmonization, oenology and degustation commission);
development of a Wine Education Centre;
development of a regional Wine Competence Centre; and
sustainability initiative for the wine value chain.
Maybe you tell us a little bit about the key staff in the project?
Team leader is Dr. Urich März, a cluster expert with 30 years of experience in international agricultural development. Furthermore, he has supported the establishment of a wine producer association in Romania for several years. Deputy team leader and expert for education/extension is Hilarius Pütz, a German winegrower with 40 years of experience in grape growing and wine making. Hilarius has been living in Georgia for more than seven years and is conversant in Georgian. Because of his strong relations within the wine sector and his lecturing experience, he will efficiently support the development of a competence centre focused on practical trainings. The key experts will be supported by a team of local specialists, amongst them Irma Chanturia, Gia Natsvlishvili and Iago Bitarishvili.
Thank you, Stefanie, for your answers.
© Hvino News
To add this Search Box to your website, click here. Many designs are available.