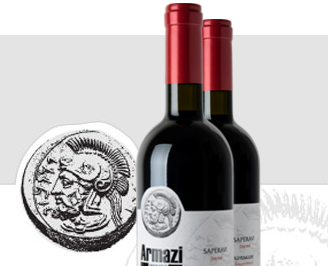 18.02.2015. Armazi Wines, a young Georgian winery, has made its first export shipment to Latvia. Armazi exported 6000 bottles, seven types of reds and whites, mostly Kakhetian varieties. The wines will be selling mainly in Latvian wine boutiques and in Maxima supermarket chain.
Wine consumption in Latvia is growing by 7% every year. As Georgian wines are very popular in Latvia, it is considered a strategic market for Georgia. The winery is negotiating with Estonian and Lithuanian importers to increase exports in second half of 2015.
Armazi wines plans to export its wines mainly to EU countries because of its low risks unlike Russia. The Georgia-EU Association Agreement also makes exports cheaper, so the wine price on the shelf has being decreased.
Armazi Wines was founded by Beka Khergiani and George Sharvashidze. Armazi is the name of a location in Georgia, 4 km southwest of Mtskheta and 22 km northwest of Tbilisi. Armazi has changed the history of wine after archaeologists found a wine cellar, dated as IV century BC. Moreover, the emblem of the company is a coin, found in this cellar, created for the warriors of a first king of Georgia – Pharnavaz I of Iberia.
Company news
To add this Search Box to your website, click here. Many designs are available.