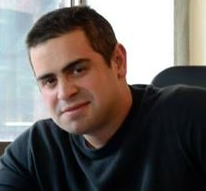 11.02.2015. "When wine is aged in a clay vessel, it assumes a completely different taste and properties. As you know, any wine requires filtering and processing. Upon pouring wine into a
kvevri
(a giant clay jug) my grandfather, who was from Guria, used to take a handful of bluish Askaneti soil, wrap it tightly in gossamer and leave it hanging inside the jug for the entire winter. The soil would absorb all harmful substances and waste, leaving the wine crystal clear," Beso Bajelidze says. Bajelidze is the director of the Georgian Parliament's National Library's wine hall. We asked him to share traditions of Georgian winemaking with our readers:
– Before we move onto the main topic, could you first explain why was it decided to add a wine hall to the National Library?
– The idea belongs to Giorgi Kekelidze, director of the library and Malkhaz Kharbedia, founder of the Wine Club. They decided that Georgia needs to have a library dedicated to this particular field. We gathered a multitude of books scattered about numerous libraries and placed them in this hall. Currently we have 700 books on winemaking and viticulture in general here, and new additions arrive daily. We also have books dedicated to origins and history of various alcoholic drinks, ways of combating diseases that affect grapevines and so on. Not bad for a start, is it? Wine isn't just something that gets you drunk. It is an aspect of enormous cultural heritage that needs to be treasured and protected. Today we have up to 600 grape varieties in Georgia – many of them are on the brink of disappearance, unfortunately.
Our library isn't just about collecting books; we are also creating a digital database that would contain information on all the Georgian winemakers that ever existed.
– Using kvevri to age wine is an ancient Georgian tradition that was included in the UNESCO Cultural Heritage list. Could you tell us more about it?
– A little known fact is that in Western Georgia,
kvevri
is called
churi
. This is an archaic word, confirmed by an archeological dig that unearthed a VI century
kvevri
with inscription that stated "This
churi
was laid by such-and-such." As far as classification goes, a
churi
is enormous in size, able to fit a grown man inside (which actually happens when it's being cleaned). A
kvevri
is smaller. The smallest of these jugs is called
botsa
.
– Many think that Georgian wine has healing properties. Can you elaborate on this?
– It does indeed have medicinal qualities. Though I am not entirely sure what diseases it cures. French winemakers claim that wine is indispensable when it comes to cardiovascular disorders – if consumed moderately, of course. It's paradoxical, but instances of alcoholism are much more rare in countries with developed viticulture.
– Are traditional winemaking items such as satsnakheli, gideli and orshimo still widely used?
–
Satsnakheli
is a manual winepress. It still sees much use. Nowadays they are made of basswood, but in the past they were made from the wood of giant nut-trees that, apparently no longer exist in the region.
Gideli
, a small handheld basket used for collecting grapes, is still utilized in Western Georgia, where grapevines wind along tall trees. Collecting them is no easy task. A man would climb the grapevine with a
gideli
on his forearm, gather grapes into it and then lower it down on a rope to another man waiting below. The man below would empty it into a
godori
(a larger basket) and recite a short prayer: "Descend from the tree in peace."
Orshimo
is a scoop that is used to get wine from
kvevri
, and is usually made from a wild pumpkin or gourd. Once such a pumpkin ripens, it is cut open and cleaned out, then left under the sun for some time. Once it hardens, a handle is attached, creating a very convenient scoop.
Another little known fact: Georgia is the only country where wine and grapevine have a multitude of names.
To add this Search Box to your website, click here. Many designs are available.