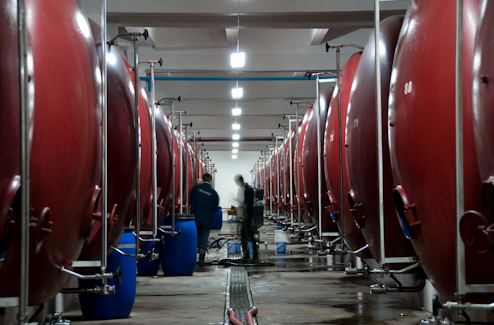 12.02.2015. The International Finance Corporation (IFC) is providing a $2 million USD (4 million GEL) loan to one of Georgia's largest wine-makers and exporters.
The financial support offered to Tbilvino aimed to spur the establishment of new jobs and generate tax revenues for the state budget. This in turn would encourage economic growth, said the IFC press office today.
Furthermore, the money would support the company's working capital and enable further growth, said IFC.
The financial support would contribute to the development of Georgia's wine sector, which provided employment to a large number of households in rural areas. Subsequently, the loan was expected to have a direct impact on poverty reduction, as more than half of Georgia's poor live in rural areas, and create jobs both directly and indirectly.
"As an industry leader and producer of the most in-demand Georgian wines, we need a guaranteed source of high quality supply of grapes," said Tbilvino president George Margvelashvili.
"With this new investment we will enter the primary field of the winemaking production cycle - vineyard development and grape growing. It will increase the company's capital, strengthen our self-sufficiency and grow the brand image, which is crucial for attracting customers and penetrating new markets," he added.
This is IFC's second investment in Tbilvino. After IFC provided its first $1.5 million USD loan to the company in 2011, its farmer-suppliers more than tripled. With the new loan, this number is expected to increase further, benefitting local small farmers.
IFC Regional Manager for the South Caucasus Thomas Lubeck said the IFC's continued support for Tbilvino, as "one of the leading Georgian winemakers", was a key part of IFC's effort to develop a more efficient and productive agricultural sector.
"This will boost the growth of agricultural exports and help reduce poverty, especially in regions where employment opportunities are scarce," he added.
Georgia became an IFC member in 1995. Since then, IFC has invested more than $810 million in 60 projects across various sectors. IFC has also implemented a number of advisory projects focused on the development of the private sector.
Source
To add this Search Box to your website, click here. Many designs are available.