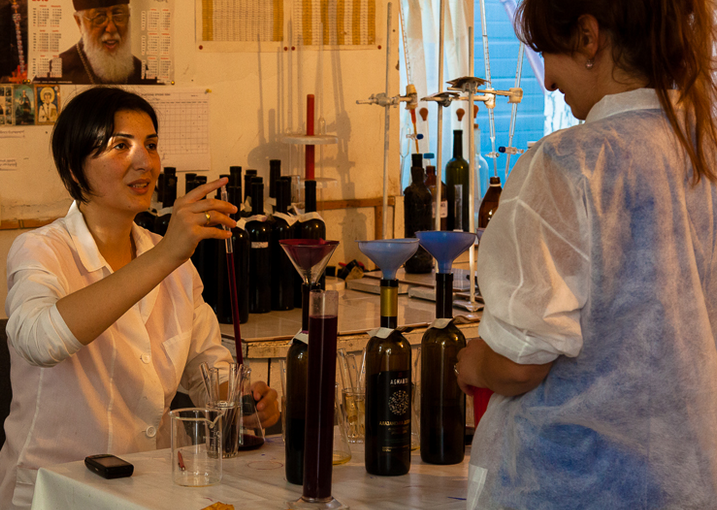 21.02.2015. A new system of quality control and certification of Georgian wines and alcoholic drinks took effect on February 16. The new regulations aim at making life easier for businessmen and consumers easier, the Georgian government claims. But their ultimate goal is to maintain the high reputation of Georgian wine as well as possible.
"It may sound strange, but smaller restaurants choose low-quality wine because it is less strong and consumers spend more time at the restaurants. Commensurately, as the image and reputation of Georgian wine has been increasing at export markets, it continued to remain questionable at local markets."
The new regulations will control the quality of all wines, bottled and draft ones alike. The control of exported Georgian wines and alcoholic drinks is already tight, with a special commission checking every batch that goes for export by taking bottles at random and putting them through lab tests.
But Georgian authorities have recently decided to streamline the control system for all alcoholic drinks.
According to Levan Davitashvili, Deputy Minister of Agriculture of Georgia, all Georgian wines sold at both local and export markets must be equally good.
"A lot of tourists come to Georgia and taste wines at restaurants or markets and we must protect the reputation of Georgian wine, thus nobody must question its quality, no matter where they are," he said.
The Food Safety Agency, an arm of the Ministry of Agriculture of Georgia, will carry out wine inspections in markets, restaurants or other trade outlets, including private merchants in regions. The control system of bottled wines will remain the same, involving both chemical and organic tests. All tested bottles will be provided with a special tag called a lot label. The number stamped on it will serve as a key to the Georgian National Wine Agency's database that contains detailed and comprehensive information about wine quality tests.
"Thanks to this mechanism, the quality control gets simpler and less costly to exporters. Instead of checking bottles at random from every batch going for export, now they will take these bottles from larger lots of wine that were already checked and tagged by quality marks," Otar Danelia, Minister of Agriculture elaborated.
To add this Search Box to your website, click here. Many designs are available.