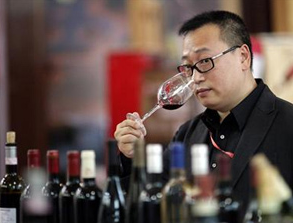 02.02.2015. During the first ten months of 2014 China imported 301 million litres of wine, worth USD 1.2 billion. The volume is six times more than the total export of Georgian wine during the whole of 2014.With over 900,000 litres China is the sixth largest export market for Georgian wine. The instability of partners is the main problem that Georgian wine producers face in the world's most populated country. The economic slump of Russia has once again raised a question of market diversification for Georgian winemakers. Leading Georgian wine producers that have reduced dependence on the Russian market to a minimum are betting on Asian markets and testing the potential of India and South Korea.
Georgian wine export amounted to 45,931,023 litres, worth USD 180,721,000,during 2014, up from 35,905,939, worth USD 127,850,900, from the previous year. With 28,578,859 litres Russia became the first export market for Georgian wine, making up over 40%. In 2014 it was one year since the seven-year Russian embargo was lifted. With 6.3 million litres Ukraine is the second largest importer of Georgian wine. The export dropped from 9.9 million litres from 2013. Ukraine is followed by Kazakhstan, which imported 4.09 million litres. Belarus is the fourth market, amounting to 1.8 million. It is followed by Poland - 1.2 million, and China - 866,826 million litres, worth USD 4,664,900.
The Russian economic recession raised fears of expected losses for Georgian winemakers as there are some companies whose total export to Russia amounts to around 80-90%. The significant economic growth of Asian markets has turned out to have good potential for Georgian wine companies trying to reduce their dependence on Russia. However, total replacement of the Russian market remains unrealistic for at least the next decade.
Last week, Georgian FM, Tamar Beruchashvili said that Georgia and Russia suspended an informal dialogue on trade issues. She said she was "not optimistic" that the dialogue would resume anytime soon. She expressed wariness about trade with Russia trade. "We see this market as a trap," she said. "It's a very unpredictable market. Any moment Russia can enact again an embargo," she said, referring to a 2006 ban on Georgian wine and mineral water that Moscow lifted in 2013.
"In the first ten months of 2014, China imported 301 million litres of wine which is worth USD 1.2 billion. In 2014, Georgia exported nearly 1.2 million bottles of wine to the Chinese market, an increase of 34% compared to 2013. It accounted for just a very small portion of the total amount of wine that China imported. China is a huge market and high quality Georgian wine definitely has great potential there," said Liu Bo, economic and commercial counselor of the Embassy of P.R. China.
According to Bo, the brand image of Georgian wine is very important. He suggested that the Georgian winemakers jointly take a unified marketing strategy to establish a unified brand image of Georgian wine with high quality and reasonable prices. Bo also advised cooperating with a powerful distributor, which is in his words, a key element for success in the Chinese wine market.
Lacking powerful distributors or stable partners is the main problem that leading Georgian winemakers Tbilvino and Teliani Valley have been facing on the Chinese market.
"We steadily sell about 150,000 bottles on the Chinese market. The alcoholic beverages market is being formed in China now. Partners are still distinguished by a general lack of stability. We have had to change partner companies several times. However, the market is open to innovations. Georgian wine is gaining popularity there; the potential is enormous. Finding a proper partner is the main task. We frequently meet Chinese companies from different sectors that decide to get involved in the wine business. It becomes their second or third business activity. So, selling wine is not their strategic choice. We do find exceptions, but rarely," said Giorgi Margvelashvili, president at Tbilvino.
CIS countries are the main export markets for Tbilvino. These include: Kazakhstan, Ukraine, Russia and Belarus. These countries make up over 75% of total exports. They are followed by European countries. In particular, the Baltic states, Poland, Great Britain, Ireland, Sweden, Finland, Austria and Cyprus. European countries make up over 15%. The rest is made up by Asian markets, like China and Hong Kong.
In 2014 Tbilvino entered certain new and comparatively 'exotic' countries for Georgian wine such as Canada, Cuba and Austria. Their share is around 10%.
In 2014 Teliani Valley almost doubled its export to China. "The Chinese market is very interesting, however it is a spontaneous market. It is rather difficult to find long-term partners there," said Tea Kikvadze, chief commercial officer at Teliani Valley.
62% of Teliani Valley products are exported to post-Soviet states. Europe makes up 24%, Asian markets make up 9%, and America - 5%.
Georgian winemakers have over 6 years of experience on the Chinese market. Currently Tbilvino and Teliani Valley are betting on Indian and Korean markets, which they consider to be very interesting.
The share of the Korean market for Georgian wine is small, however year by year comparisons have shown significant growth. A total of 20,028 litres, worth USD 80,600, was exported to South Korea in 2014, up from 131 litres, worth USD 0.2 thousand, in 2013.
"We are not yet present on the South Korean market. This year the ministry is financing the participation of Georgian wine companies at the largest Korean drink exhibition. We plan to participate in the exhibition as this market has quite a good perspective," said Kikvadze. Teliani Valley plans to enter the Indian market in 2015.
GEL 5 million from the state budget has been spent on the promotion of Georgian wine. Additional expenditure has been issued by private companies.
"Our target markets were: the USA, China, Poland, Great Britain and Georgia. Markets were selected through cooperation with the private sector. Georgian wine participated in all the important exhibitions," said Giorgi Samanishvili, chairman at the National Wine Agency.
According to Samanishvili, the export growth of Georgian wine in 2015 might not be as huge as it was in 2014. However, losses are not expected.
"The 2006 Russian embargo was a good lesson for the Georgian viticulture sector. It was a time when the issue of market diversification and planning of various marketing activities got activated. The National Wine Agency together with the private sector and the sector as a whole have a strategic marketing plan. The plan is about determining prioritized markets and the implementation of activities on these markets. All this targets export growth and market diversification," said Samanishvili.
Russia makes up less than 25% of the export basket of Tbilvino. "We have as diversified markets as possible. We exported over 300,000 bottles to Russia in 2014. Total export amounted to 5 million bottles. It is 25% more than in 2013. Increasing shares on the Russian, Kazakh, Baltic, Polish markets, acquisition of new partners, as well as entrance onto new markets contributed to our growth," said Margvelashvili.
The programme minimum of Tbilvino is to produce 5 million bottles in 2015. The company plans to reduce export volume in Russia, but will have growth on other markets. "This way we plan to achieve the production volume of 2014, if not exceed it," said Margvelashvili.
"I wish it were possible, but it is difficult to imagine that Georgian wine companies will avoid incurring losses in 2015 if the demand drops. Unfortunately we have companies whose dependence on Russia is 80-90%. This is not surprising. The market has been opened up suddenly. The demand there has been high. Purchasing ability is also high and partners have offered pre-payment. So the charm of this market is large, despite the risks which are linked to the Russian market. This is a natural phenomenon. Everything that has great charm includes great risk. The dangers of this market will always remain, until changes occur in the world political arena," Margvelashvili said.
The strategy of Teliani Valley also included less dependence on the Russian market. "The Russian market makes up a small amount of our total export basket. Accordingly we do not expect a significant reduction in 2015. If Georgian wine export to the Russian market will be reduced in 2015, then compensation with other markets will be difficult. Especially when the crisis in Ukraine remains ongoing," said Kikvadze.
"Individual companies can achieve success and sustainability without dependence on the Russian market," said Mr. Margvelashvili.
According to research organization International Wine and Spirit Research (IWSR), in 2014 the U.S. consumed 339.6 million cases of wine, a figure which will increase by 11.3 percent to 377.9m by 2018.
The next biggest consumers are France (296.4 million cases), Italy, Germany and China - although France and Italy's consumption has declined since 2009. Consumption in the UK and Germany is increasing slightly, while China has increased by nearly 25 percent to 144.8m cases.
Overall, China is showing a similar trajectory to the U.S. In 2014 China (including Hong Kong) consumed 144m cases of wine, an increase of 69 percent since 2009.
IWSR predicts that by 2018 that figure will have increased to 180m cases, a rise of 25 percent.
To add this Search Box to your website, click here. Many designs are available.