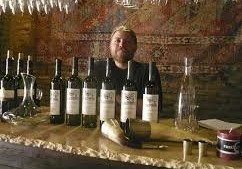 15.02.2015. John Wurdeman, founder of Pheasant's Tears winery, assesses expected restrictions on the employment of foreigners in Georgia.
"If foreigners' entry into the country and employment is complicated, it will cause the country's stagnation ", - the American businessman commented amendments to the labor migration bill, according to which free employment of foreigners in Georgia will be limited.
John Wurdeman, who lives and works in Georgia for 20 years, says that Georgia should use every opportunity to obtain new knowledge and experience. Similar restrictions will only hurt the country.
"Georgians still can teach the outside world a lot. If we want capitalism and a free economy, we don't have experience of more than 20 years. For example - all Georgian families are cool hosts, but the service culture in restaurants is very low, quite different from the European and American levels of culture,"- Pheasant's Tears' owner notes.