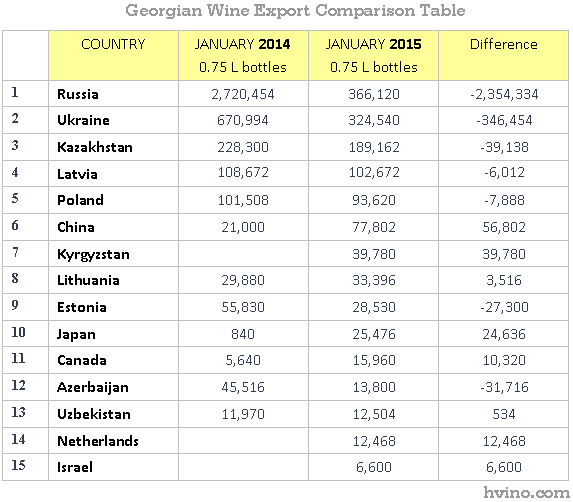 17.02.2015. (Hvino News) The economic crisis in the main destination countries of Georgian wine export has led to sharp decrease in Georgia's wine and spirits exports.
In January wine and brandy export revenues decreased dramatically, while
chacha
sales went up by 34% compared to early 2014.
The Russian Federation is the most important economic actor in the major export markets for Georgian wine both in the post-Soviet countries, Central Asia and Eastern Europe. Thus, the crisis faced by Russia significantly affects the economic environment for Georgian wine export.
In January 2015 Georgian wine exports to the Russian Federation significantly reduced (by 87%, or by 2 354 334 bottles), to Azerbaijan - (70%, 31 716 bottles), Ukraine- (52%, 346 454 bottles), Estonia-(49% , 27 300 bottles), Kazakhstan - (17%, 39 138 bottles). Smaller decline in sales is observed in Poland and Latvia, however, these markets maintain stability along with Lithuania and Uzbekistan, where January exports increased minimally.
By contrast, sales increased significantly in East Asia - China and Japan, where the government takes special measures aimed at diversification of export market.
Thus, in January 2015, the Georgian wine exports decreased by 67% or 2 694 084 bottles.
© Hvino News
To add this Search Box to your website, click here. Many designs are available.