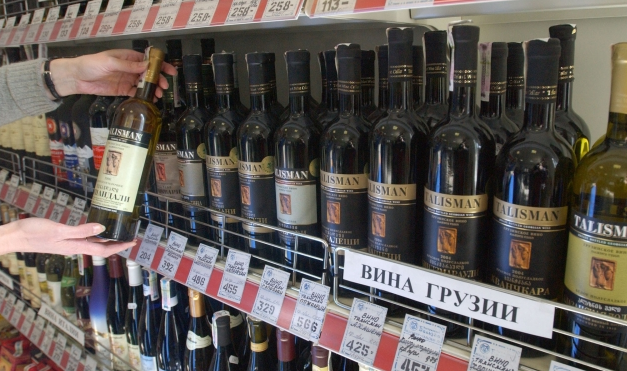 15.02.2015. According to the Ministry of Economic Development of Georgia, last year, due to trade relations with Russia, the country gained $180 million. Officials of the governmental administration don't hide that without this money, the devaluation of the national currency would be higher – not 15%, like it is today, but 30%.
However, trade relations with the northern neighbor are experiencing difficulties at the moment. For the first time they are connected not with political, but purely economic problems. Moscow is fulfilling all the agreements on restoring mutual trade which were achieved in the format of the Prague dialogue between the Deputy Foreign Minister of Russia, Grigory Karasin, and the special envoy of the Georgian Premier, Zurab Abashidze. The prohibitions of
Rospoterbnadzor
and
Rosselkhoznadzor
on Georgian products were canceled.
Even though Georgia signed the association agreement with the EU and new rules began their operation in the Eurasian Economic Union, Moscow held open the economic border with Georgia, hoping for further normalization of relations.
However, the devaluation of the ruble plays its role. The majority of Georgian exporters have delayed exports to Russia, as under the falling ruble they don't expect to make a profit.
A crisis is starting in the wine industry, which depends on exports to Russia by 70-80%. When the Russian embargo was eliminated in 2012, wine exports tripled in Georgia. According to the Ministry of Agriculture, Georgia managed to sell 59 million bottles of wine in 2014. However, in December several wine companies, including the Georgian-German Schuchmann Wines, stated that they had suspended exports, as their Russian partners were not able to prepay for wine in dollars.
"We were stably trading, according to the principle of complete prepayment. But when our partners rejected transferring money, we had to discharge the trucks which were ready to go," Nutsa Abramishvili, the Commercial Director of Schuchmann Wines, stated. The company is not big. And it easily reoriented to other markets. However, the Ministry of Agriculture of Georgia quickly reacted and warned that no "alternative markets" could substitute the Russian market for Georgian wine producers. "We continue working with Russian colleagues on overcoming the difficulties that have appeared," the Minister of Agriculture, Otar Danelia, said.
However, he admits that problems are growing. According to the National Wine Agency of Georgia, wine exports to Russia fell several times in two months. So, Georgian wine producers are following the ruble exchange rate and hoping it strengthens.
Source
To add this Search Box to your website, click here. Many designs are available.