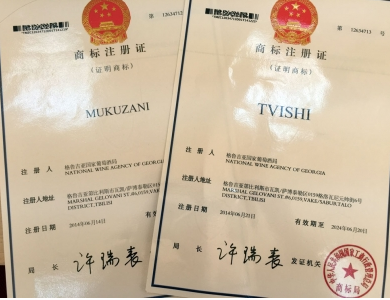 08.02.2015. The Trademark Office the State Administration for Industry and Commerce of the People's Republic of China (SAIC) invalidated the unfairly registered appellation of origin of Georgian wine "Khvanchkara". Besides, disputes over unlawfully registered appellations of origin "Tsinandali", "Kindzmarauli" and geographical indication "Chacha" have continued between Sakpatenti and two Chinese companies since February 2014. National Intellectual Property Center of Georgia "Sakpatenti" expects that appeals over the other controversial appellations will be satisfied as well.
On May 23, 2013 Sakpatenti filed 6 applications for appellations of origin of Georgian wines "Tvishi", "Khvanchkara", "Tsinandali", "Kindzmarauli", "Mukuzani" and Georgian geographical indication "Chacha" for registration with the SAIC Trademark Office. 4 applications were rejected due to the similarity to the already registered marks. Examination on 2 appellations "Mukuzani" and "Tvishi" proceeded without any delay. In January 2015 both appellations were registered.
Sakpatenti does not expect "Khvanchkara" to be disputed. Accordingly, after the expiry of the opposition period, the appellation of origin of Georgian wine will automatically be registered in the name of Georgia.
For more details, read
Georgian wine's uphill battle for its rights in China.
To add this Search Box to your website, click here. Many designs are available.