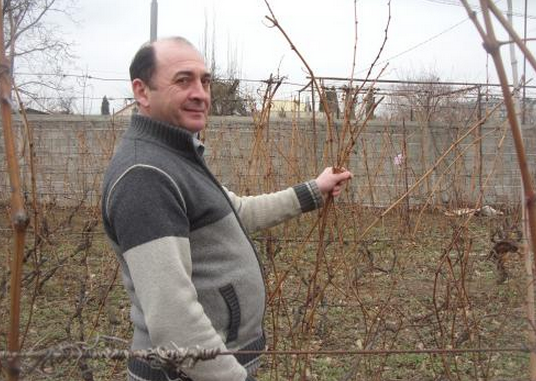 by Aleko Tskitishvili
18.02.2015. Solomon Tetrashvili's hundred-year-old garden in Digomi district, Tbilisi, is a relic of the city's glorious viticulture of an earlier time. Three hundred square meters of Rkatsiteli vineyards are located at Digomi highway, right across the "Baghnari" restaurant. The vineyard was planted in 1920s, when the residents of Digomi used to own agricultural lands there. The vineyard and a fruit garden represent a unique green island in this part of the city, where preserving similar types of oases requires a great deal of public effort due to the accelerated urbanization process as well as land owners' willpower to overcome the temptation of lucrative deals for selling their lands.
Hostorically, Digomi used to be quite famous for its gardens and vineyards as it provided the whole city with seasonal fruits. It has not lost this function completely even today, however, the products (including cucumbers, tomatos and greens) are now usually grown in greenhouses. The area of agricultural lands has also been reduced either because of the increasing dwelling unit density or due to general downturn in horticulture and viticulture.
Niko Ketskhoveli was one of those academics, who examined the city's districts of Gldani, Avchala and Digomi in one of his works – "Cultivated Plant Zones in Georgia" – as sub-regions of table viticulture. According to his work, it was mostly table grape varieties that were produced in these regions of Tbilisi. It is well-known that Gldanura grape, historically common in Gldani, is another name for Gorula, which is one of the best table grapes of Kartli region. Digmura, an endangered red grape varietal that has been long produced in the village of Digomi, requires a proper examination as well. Presumably, Digmura produced ordinary wine and therefore, was used mostly for consumption. Indeed, instead of relying on written records, it would be far more reasonable to taste wines made from Digmura in order to make final conclusions about the grape. This will also allow us to analyze the potential of this varietal in Georgian viniculture.
Generally speaking, the wines made from the viticultural sub-regions of Tbilisi don't exist on the market. Therefore, we don't quite know the quality of those wines that were produced from the vineyards of Ortatchala, Vera, Vazisubani, Avtchala or Digomi about 100-200 years ago.
Vakhushti Batonishvili describes Tbilisi as a city that is abundant in gardens: "There are numerous gardens full of fruits and flowers in the outskirts of the city", "The area from Vera to Tskneti embellished with gardens."
90 years ago, Solomon Tetrashvili's ancestors decided on Kakhetian varietal of Rkatsiteli when planting their own vineyards. Next to the Rkatsiteli vine rows, there are four plants of Gorula (so-called Gldanura) climbing on a small pergola. One of these plants is as old as Rkatsiteli vines. Even though Gorula is mainly considered as a table grape, it has always been blended with other varietals or in rare cases, used alone to make wine. Following this tradition, Solomon Tetrashvili makes wine from Gorula and Rkatsiteli blend. Ten percent of Gorula grape adds delicacy and rich aromas to the wine. The wine named "Solomoni" was first presented to the broad audience at the New Wine Festival in 2014.
The 3000-square-meter Rkatsiteli vineyard is divided into four separate parts. There are various fruit plants in between them and several trees planted in the vineyard itself. The vines are planted 70-80 centimeters apart and the spacing between the vineyard rows is 1.20 cm. The vineyard is plowed by a walk-behind, two-wheel tractor. So far the vines have been treated systematically. In 2015, however, the vine grower plans to use Bordeaux mixture to control vine diseases. That's because family-owned cellars that keep the standards of natural winemaking have far more potential on the market.
The main value of Solomon Tetrashvili's vineyard lies in its age and history: "In 1922 my grandmother moved from Dzalisi to the village of Digomi because she got married", the vine grower proudly tells us the story. "As she told me, this territory was just a plain field at the time, where the residents of Digomi grew wheat. Tedo grandpa, the father of my grandmother, would bring Rkatsiteli plants during summertime from Dzalisi and in about 3-4 years the whole vineyard was planted, which has been preserved to date. A hectare of the territory occupied by the "Baghnari" restaurant and its surroundings was owned by my grandfather and his three brothers 100 years ago. We inherited these lands as their children. Thus, "Baghnari" and its extensive garden now belong to my relatives. My grandfather lived in Digomi and we still own his house as well as a 300-square-meter garden there. We also possess another piece of land in the upper part of the village, where we plan to plant fruit and vine gardens.
Solomon Tetrashvili has a special relationship with nature as he loves being in touch with the soil, vine and fruit plants. He does the work of grafting and reproduction of cultivar himself. In future, he plans to build a small wine cellar near his vineyard that will look like the one he saw in Sapara Monastery, Samtskhe-Javakheti. The cellar will be a partially clay soil construction, which will look like a clay soil hill and only a door of the cellar will be visible from outside. This artificial hill will be covered with grass, bushes and flowers. Qvevris and traditional wine inventory will be kept in the cellar itself.
Last year, Solomon Tetrashvili showed his vineyard to a famous ampelographer and academician – Nodar Chkhartishvili – to identify several red varieties grown in his vineyard. The grapevines turned out to be hybrid, presumably so-called Dirbula that is common in Kartli region. The grower has a goal to plant one of the red varietals and to produce a high quality red wine.
Nodar Chkhartishvili suggests that the grower uses the land efficiently and gradually replaces hybrid varietals by the cultural ones, which will naturally suit the viticulture of Kartli region. Tavkveri grape should be the first choice, as he says. Another red varietal, well established in the region, is Shavkapito grape, which can also be grown there along with Tavkveri. Another great option would be Budeshuri red grape as well, which surprisingly, has been forgotten in recent decades. Even though it is a table grape, just like Goruli grape, it still can be mixed with other varieties to make wine. Danakharuli is one of those rare varieties that needs to be preserved and produced in the region. Finally, Digmura by all means deserves to be grown there even on small lands by the growers of Digomi as the grape originates from this very region and has been grown there for centuries.
As Nodar Chkhartishvili stated, preserving vineyards in Tbilisi is quite a patriotic act and it would be beneficial if the government encourages local growers to do their work. Not to mention that the vineyards are located in Digomi, the place where a royal family of Bagrationi owned their vineyards and which offered one of the best terroirs for grapevines.
"We should take care of the lands and keep a good deal of agricultural lands intact. The law must ban converting the agricultural lands into residential lands and building high apartment buildings on these lands definitely should not be allowed. Several years ago, this matter was taken care of. There were gardens and vineyards blossoming in Digomi and Vashlijvari. These vineyards have been destroyed in recent years right before our eyes. The lands have been sold and now new houses are being built on those territories. Vineyards should also be planted in the city itself for decorative purposes: in the streets, on trees, house walls, balconies... This way we will not only make the city more beautiful, but also show the visitors that Georgia is the country of wine and viticulture. As part of a governmental program, we would plant grapevines in the city during the 1960s. No school garden existed without a grapevine in it. Restoring this tradition is not only possible but also very important", says Nodar Chkhartishvili.
Unfortunately, the chaotic urbanization in Tbilisi and increasing dwelling unit density on the remained agricultural lands in the adjacent villages and in the outskirts of the city, don't give us much hope about the future of horticulture in the capital of Georgia. After the village of Digomi officially became a district of Tbilisi in 2007, it has been an attractive spot for continuous constructions of new apartment buildings and private houses. The village is rapidly losing agricultural and grazing lands. Indeed, if the needs of sustainable development are met, which will incorporate the importance of protecting these lands including already exploited green islands in the city's surroundings, the goal to preserve existing agricultural lands and gardens can be achieved.
Source
© Georgian Wine Club/vinoge.com
To add this Search Box to your website, click here. Many designs are available.