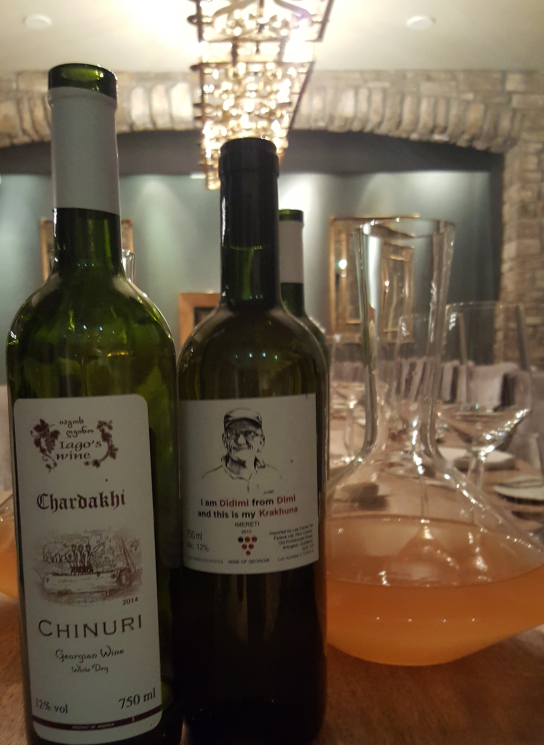 16.11.2016 (Hvino News). Earlier in November
Hvino News
informed our readers about a wine masterclass in Ireland featuring Georgian wine by Iago Bitarishvili (read more:
Iago's wines featured in Ireland
). It took place on November 10 at the five star Cliff House Hotel in Ardmore.
The event's organizers were sommelier Thierry Sauvnot, importer Pascal Rossignol, and Michelin star chef Martjin Kajuiter. Hvino News contacted them with several questions, and now we wish to thank the wine experts for doing this small interview. The answers are below.
Hvino News:
How did you learn about Georgian wines?
Thierry Sauvnot:
I did learn about wine from Georgia about 5 years ago when I was working in London through tasting organized by Les Caves de Pyrenne but also someone called Isabelle Legeron MS.
Pascal Rossignol:
I discovered Georgian wine at the first Real Wine fair in London in 2011; my initial reaction was of surprise and I wasn't sure how we could import them and sell them over here, as the taste was so different than what we are used to. But after a couple of years, including a
supra
in London where the wines were served with local food and dishes, I was convinced we should import some into Ireland.
In June 2014 I went to Georgia and discovered the vineyards of Iago, Pheasant's Tears, Ramaz Nikoladze and Didimi. We are now importing these wines in Ireland.
Hvino News:
Why have you selected Iago's in particular?
Thierry Sauvnot:
It's probably one of the best - I did try both in Ireland and London. I wanted to show it.
Pascal Rossignol:
We needed an orange wine for that evening and Iago is one of the best ones I've ever tasted.
Hvino News:
What's the overall performance of Georgian wine vs other wines at the event?
Thierry Sauvnot:
It was very surprising for all the guests because those wines only landed in Ireland this year. We did actually serve a wine from Didimi. When we explain the wine, we said to the guest that those wines are for drinking with food and that you can really see the differences in a glass. Those wines are very versatile.
Pascal Rossignol:
The Georgian wines surprised people at first, but they made a lot of sense when the food was served with them. I think the reaction has been quite good towards them.
© Hvino News
To add this Search Box to your website, click here. Many designs are available.