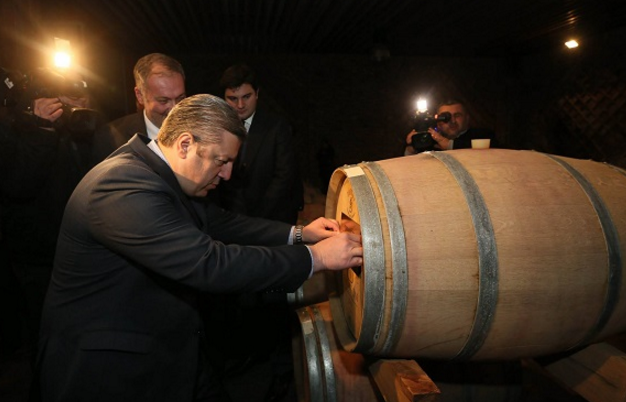 29.11.2016. Badagoni celebrates the 10th anniversary with a new wine brand. The wine company has submitted new trade mark – GAU5 and signed a contract on export of 5 million bottles wine on Chinese market.
"I am sure, that GAU5 will be successful on Chinese market as well. This is the biggest positive conditioned due to the diversification of the market. This will be absolutely stabile market for Georgia", – George Kvirikashvili declared while visiting Badagoni.
Chinese corporation Wenzhou Bydoway Import & Export Co will be partner of Georgian company in the wine export. According to George Kvirikashvili, the best traditions of Georgian wine making and modern technologies are well merged in Badagoni.
"Success of Georgian wine and establishment in the premium niche is possible at the expense of this synergy. Our wine really deserves premium niche. Georgian wine is not only the subject of wide consumption, and it will be in the premium niche, as Georgia is the cradle of winery. It is well-known and it is true", – Georgian Prime Minister declared.
It should be noted, that export of Badagoni wine is made in 32 countries of the world. The PM congratulated the company signing of an agreement with Chinese company and hoped that the document would be renovated with new figures in the nearest future.
Source
To add this Search Box to your website, click here. Many designs are available.