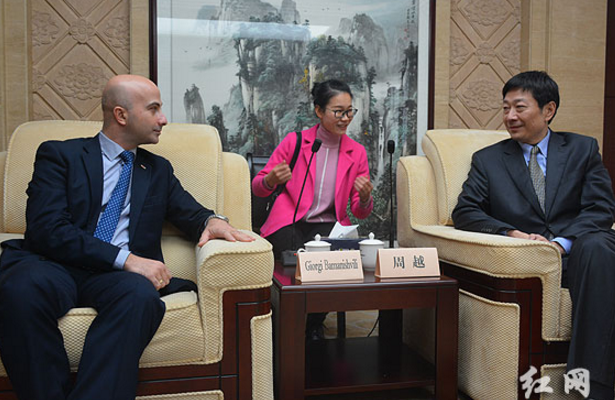 14.11.2016 (Hvino News). On November 11-12 Georgian National Wine Agency's chairman George Samanishvili visited Hunan Province in South Central China. He met with vice governor He Zhuxiang and director of Hunan Provincial Department of Commerce Zhou Yue (photographed).
According o report by Xinhua News Agency, "Georgia is an important node along the Silk Road Economic Zone. Georgia has expressed strong will to participate and adopted various concrete measures. In recent years China is becoming the sixth largest investor in Georgia and the fourth largest trading partner of the country, with frequent high-level visits and growing economic cooperation. Since January 2016, Georgia exported 4.3 million bottles of wine to China, and China has become the second wine exports market for in Georgia."
"We attach great importance to the development of cooperative relations with China and the vast Chinese market, the establishment of the Georgian wine centers", - pointed out George Samanishvili.
During the visit, George Samanishvili participated in the opening ceremony of the International Commodities Exhibition and Trade Center of the Takahashi Grand Market in Hunan Province. He met with the officials of the Hunan Provincial Department of Commerce to attended the first official promotion meeting of the Georgian wine industry.
To add this Search Box to your website, click here. Many designs are available.