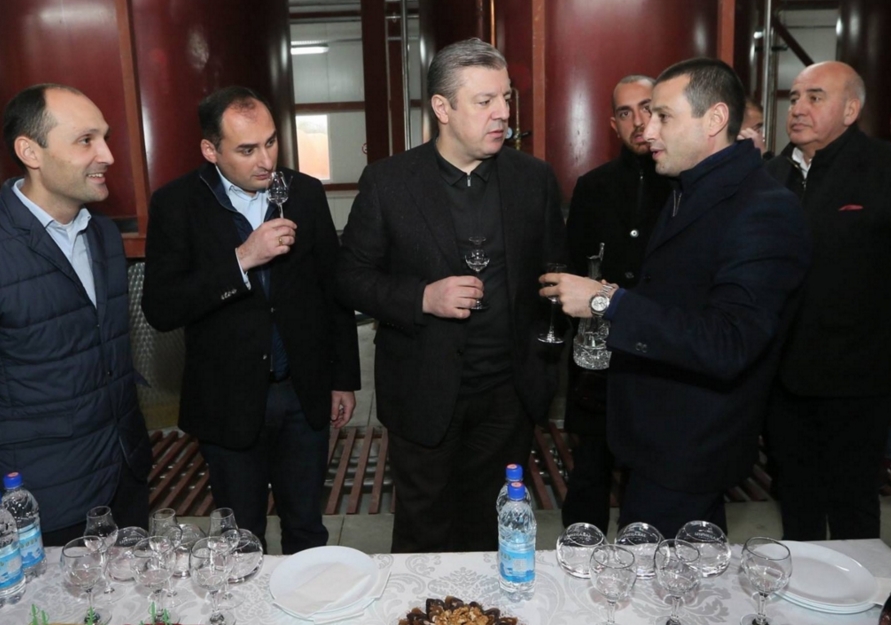 15.11.2016. Prime Minister of Georgia Giorgi Kvirikashvili travelled to Gremi village in Georgia's wine-making Kakheti region and was guided around the Sarajishvili's new distillery plant.
Established using the Government's Preferential Agro Credit Project, the Sarajishvili Distillery featured the most advanced technology for alcohol distillation in Georgia.
The facility was built within a $827,000 project, of which $600,000 was contributed by the credit program.
The distillery was fitted with eight modern devices allowing staff to use latest equipment and "classic technology" by Sarajishvili - a well-known Georgian alcohol brand - to produce 500,000 litres of alcohol annually.
The new plant will employ around 150 workers. It was among 52 new production facilities of various types established recently in Kakheti within the Preferential Agro Credit Project.
The governmental project was worth more than $17 million. As well as supporting new enterprises, it also involved increasing the capacity of 303 previously existing production centres in the region.
A representative from Sarajishvili said new distillery meant the alcohol company could produce more, higher quality spirits.
This is a very important project for our company as it has allowed us to complete our production cycle - we had earlier opened our vineyard farm and now we added the distillery element to the production. This would probably have been very difficult for us without Governmental support," said the Sarajishvili representative.
Company staff told media the new distillery would allow them to "increase the international competitiveness of Georgian alcohol brands".
Founded in 1884, Sarajishvili is a well-known alcohol brand with rich tradition of producing Georgian-made spirits including its well-known branded brandy.
Since 1889 Sarajishvili products have been awarded hundreds of major prizes at international exhibitions.
The company was established by winemaker and public figure Davit Sarajishvili (1848-1911) who studied the production of brandy in France before becoming a pioneer of brandy production in Georgia.
During the Soviet regime the company was taken over by state authorities and renamed 'Tbilisi Cognac Factory' before it was re-acquired by private owners in 1994 after the collapse of the Soviet Union and became known by its original title 'Sarajishvili'.
Source
To add this Search Box to your website, click here. Many designs are available.