"W i n ! W i n e" lottery by Hvino News has started. Don't miss your chance to win best quality Georgian wine!
Our simple rules:
The photo of prize bottle is posted in our facebook page (you must like Hvino News page). Simply write a comment to the photo of bottle. After 7 days, the winner will be drawn randomly from people who wrote comments. (Attention: Just a like is not enough, you must write comment - any text in any language)
Every lottery is open for certain city, for example Tbilisi or Warsaw. So you must be in this city to pick your prize yourself from a shop (it's because sending wine by mail is restricted). Don't worry - we will hold lotteries for people in many cities and regions of the world. Make sure you enter the lottery for your location.
The prize drawing procedure will be performed online. You will see how our programme picks the winner. No waiting: Winner can pick the prize immediately.
After you get your prize, please take a "selfie" with your bottle, and post as a comment.
Current prizes and dates will be posted HERE.
Today we opened the first lottery: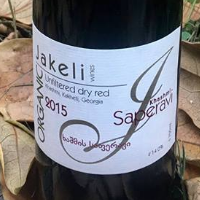 Lottery 1:
Dates:
November 29 - December 6.
Status:
OPEN!
Location of prize: Tbilisi
To enter lottery, please write a comment to this photo

Happy Holidays and good luck!