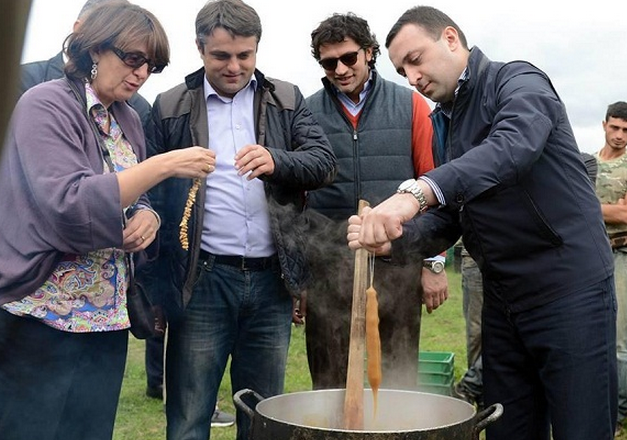 Prime Minister (right), Foreign Minister (left) and other
Cabinet ministers making
churchkhela
, traditional
Georgian snack made from nuts and grape juice.
Photo: Foreign Ministry's press office.
05.10.2014. Georgian farmers from the country's eastern area are enjoying the benefits of a bumper harvest after earning 115 million GEL by selling 155,000 tons of grapes this year.
The country's Prime Minister Irakli Garibashvili visited the Kakheti region - the leading production area of national wine - with cabinet members yesterday, where he participated in a traditional grape harvest.
The PM said the 2014 grape harvest was an "unprecedented event" as it was the first time "this huge amount" of money was earned by grape growers.
"The most important thing is that this is a great motivation that stimulates farmers. New vineyards have already been planted on the area of 4,000 hectares which indicates the motivation and wish of farmers to plant vineyards," Garibashvili said.
"There are families that received 10, 20, 50 and 100 thousand GEL. This is a great help for their village," he said.
During his Kakheti visit, the PM attended various events dedicated to Georgian Wine Day. This year was the first year Georgia's traditional drink had its own day after the PM proposed the idea in February at the presentation of the Wine Culture Research Project at Georgia's National Museum.
From this year and looking ahead, Georgian Wine Day will be celebrated annually on October 4.
The festivities, which included a traditional horserace, were held at the Alaverdi Monastery Complex where wine was also created.
Georgia is one of the oldest wine regions in the world. The fertile valleys of the South Caucasus, which Georgia straddles, are believed by many archaeologists to be the source of the world's first cultivated grapevines and Neolithic wine production over 8,000 years ago.
The traditional Georgian style of winemaking using
qvevri
clay jars was listed on the UNESCO Intangible Cultural Heritage lists.
Source
To add this Search Box to your website, click here. Many designs are available.