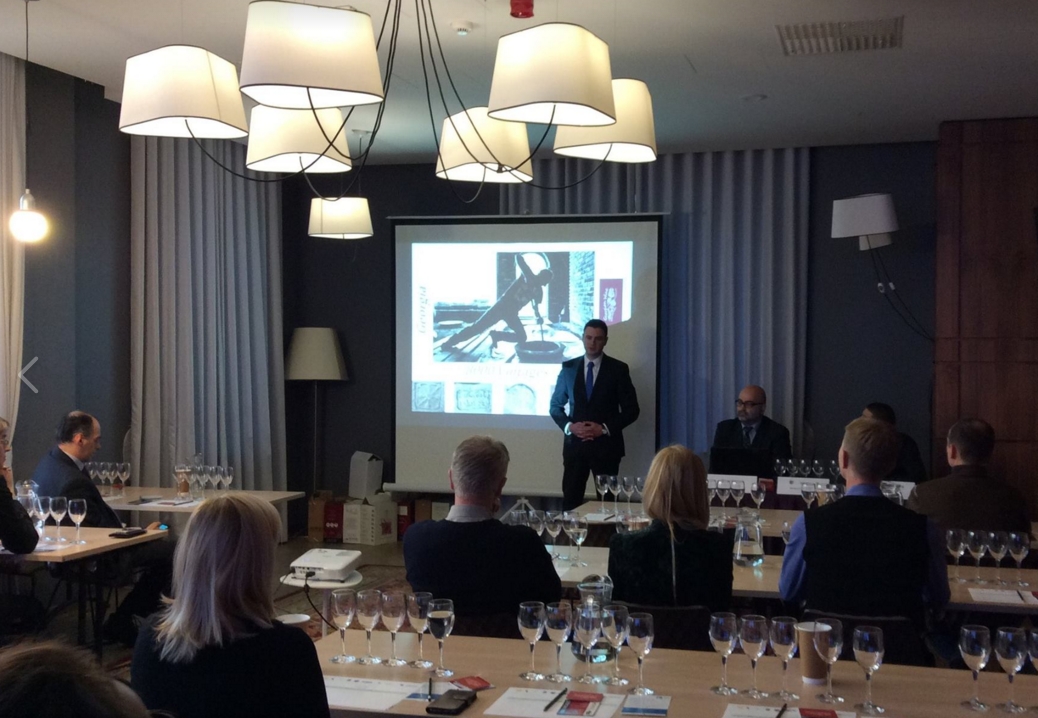 18.11.2016. Baltic countries still are strategic export markets for Georgian wine, National Wine Agency is planning active marketing arrangements for the next year. This information was announced by National Wine Agency's Marketing and PR Department Manager Irakli Cholobargia after Georgian wine presentation in Estonia and Latvia.
Georgian wine presentation-degustation - "Wines of Georgia", lead by Irakli Cholobargia, was held in Tallinn and Riga. The presentations were attended by native and foreign importers, sommeliers, owners of restaurants, Wine Club members, wine journalists and bloggers. One of the presentations in Tallinn was held in Sommelier School of Estonia.
"Baltic countries are traditional markets for Georgian wine, though we are working on a new segment – young generation, to let them know Georgian wine culture and traditions. It's important for Georgian wine popularization and publicity growth, that Georgian wines are in the Estonian Sommelier School program. Also, next year, National Wine Agency is planning active marketing arrangements in Baltic countries, as strategic export markets for Georgian wine" - stated Irakli Cholobargia.
The presentation held in Riga was attended by Ambassador of Georgia in Latvia, Teimuraz Janjalia. In his speech, Ambassador spoke about popularization of Georgia wine in Latvia and noted, that the Embassy supports Georgian wine-makers in developing Latvian market.
As Teimuraz Janjalia said, according to the data of recent two years, demand on Georgian wine in Latvia has remarkably grown and as a result, holds the first place in Baltic countries with Georgian wine and alcohol beverage (
chacha
, brandy) import amount.
At the degustations in Tallinn and Riga, different wines of 8 Georgian wine companies were presented. These companies are: Besini, Corporation Georgian Wine, Shilda, Tela, Wine Man, Matrobela Wines, Kakhuri and BGW.
Latvia and Estonia are in the top ten of Georgian wine export markets. According to data of 10 months, 2016, over 980 thousand bottles of wine have been exported Georgia to Latvia (VI place), that is 6% higher than the similar data of the last year. As for Estonia (VIII place)- 516 thousand bottles, that is 33% higher, than the data of 2015 similar export period.
NWA Press Release
To add this Search Box to your website, click here. Many designs are available.