by Sarah Heller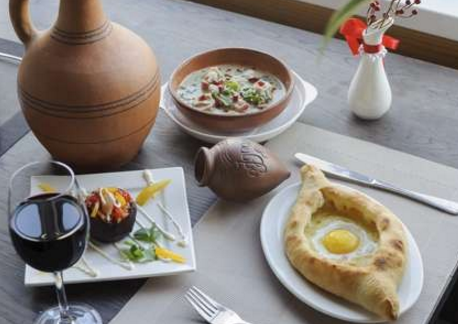 09.11.2016. The grape names may be difficult to pronounce and they may ferment them differently, but the wines perfectly match Georgia's delicious cuisine.
At a time when wine is more accessible than ever before, especially in a global city like Hong Kong, the question of why we should travel for wine inspires increasingly nagging guilt. After all, this November if I wish to gorge myself silly on truffles and Barolo, I can easily do it here in Hong Kong and spare the atmosphere the carbon impact of my jetting to my beloved Piedmont (even I can't eat my own weight in truffles, though I have a better shot with the Barolo).
And yet travel for wine – or maybe even in general – can perhaps be justified if we believe it might totally upend our understanding of a subject we thought we knew exhaustively, open our jaded eyes and inspire us to try to do the same for those around us.
My recent jaunt to the country of Georgia was an excellent reminder of why we travel at all. I had actually tried a handful of Georgian wines before (not least because of their prodigious submissions to the Cathay Pacific Hong Kong International Wine and Spirit Competition). All were pretty interesting; some were quite nice. I knew some were made in clay jars, or
kvevri
, and that the Georgian expression for cheers is
gaumarjos
(repeated incessantly throughout our trip).
What I didn't know was, well, anything else. I vaguely understood where Georgia is (sandwiched awkwardly between Russia and Turkey with Armenia, Azerbaijan, Iran, Iraq and Syria all fairly close), little of which inspired confidence. I'd heard from some of my most cosmopolitan friends that the food was spectacular, but had no idea what it might comprise. I knew from my history reading that at one point Georgia had been ruled by Mongols (and, as it turns out, the Romans, Greeks, Persians, Turks, Arabs and Russians), though the Georgians would later contend that they left nothing of particular use.
However, what I wasn't prepared for was the sheer alien wonderfulness of Georgia. In Georgia many of the white wines have tannins and some of the most popular reds (like Kindzmarauli) are sweet. These tannic whites, made like reds by fermenting white grapes with their skins, are arguably the forerunners of the international orange wine trend, yet Georgians dislike the name, preferring "amber."
The reds in Georgia are very low in alcohol (about 11.5 per cent, while elsewhere, even the usual "low-alcohol" reds such as pinot noir are 13 per cent plus) but the whites can reach 14 per cent (most of the time, whites are usually less alcoholic than reds). For "traditional" wines, the grapes are crushed by foot in long wooden troughs increasing the oxygen exposure, then the fermentation and ageing take place invisibly underground in clay vats that weigh about two tonnes. Ageing occurs with the skins for whites and reds, but without any oxygen, sometimes for up to six months, and instead of making the wines more tannic it actually smooths them out. Though amber-coloured, the best of these wines taste fresh and vibrant.
Georgian
khachapuri
bread with wine.
Only one of the most popular grape varieties is easy to pronounce. Saperavi, black-skinned and scarlet-fleshed, makes spicy, purple wines either dry or semi-sweet, and tannic or virtually tannin-less. At least it's easy to say. The most famous white grapes, rkatsiteli and mtsvane, are not. However, they, too, make glorious wines, either separately or more commonly in a blend (rkatsiteli brings structure and firm acidity, mtsvane adds a pretty floral musk).
All of this foreignness, experienced out of context, can come off as just a little … weird. But when you're in Georgia, inserting yet another undeserved piece of cheese bread (the addictive
khachapuri
) or grape must-coated walnut (even more addictive, and called
churchkhela
) or something made with spicy walnut sauce (basically everything) into your mouth, you realise a tannic white is exactly what you want. And when you let go of everything you assumed was just "the way it is", it makes you wonder (even once you're back home having
yum cha
) why it never occurred to you to want one before.
And, for the record, Georgian wine has already made one appearance on the MW exam; given all the buzz following the MW Georgia trip, I anticipate more.
Sarah Heller is a Hong Kong-based wine writer and author of Diary of a Master of Wine Student
Source
To add this Search Box to your website, click here. Many designs are available.