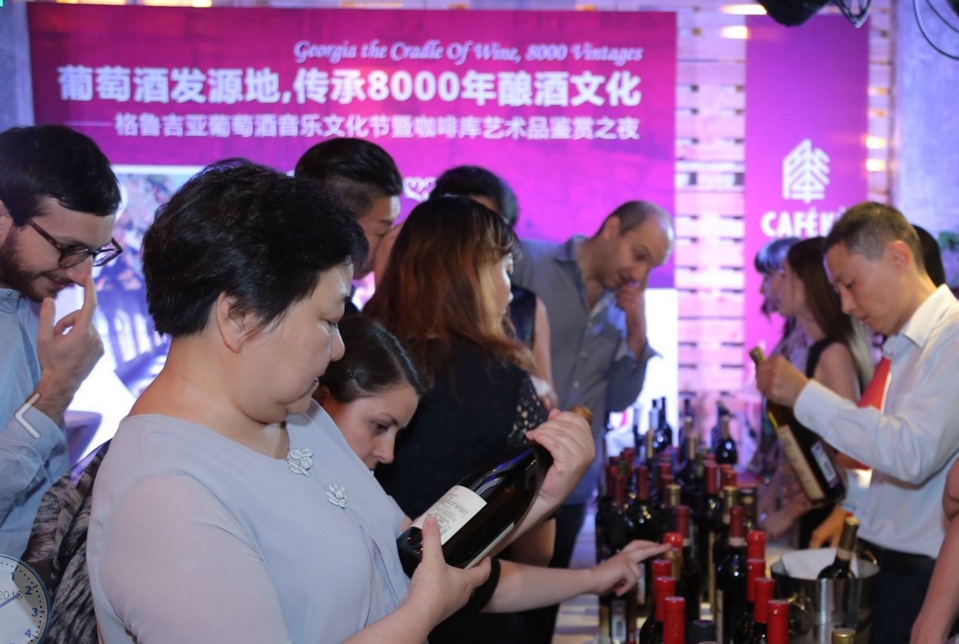 24.06.2016. Beijing, capital of the People's Republic of China and the world's third most populated city, celebrated Georgian wine and culture with a special event on June 22th.
The event, named
Georgia: Wine Homeland Continues 8000-year Winery Tradition
, brought together Georgian and Chinese delegates, representatives from leading Beijing universities, people from the local wine, art and media industry and many other guests.
The one-day celebration was organised and hosted by Georgia's National Wine Agency and the Georgian Wine Popularization Center in China at Art Café Ku in Beijing. The event was attended by Ambassador Georgia in China Davit Aptsiauri.
More than 100 bottles of 30 varieties of Georgian wine from various companies were introduced and sampled, with Teleda, Dugladze Wines and Spirits, Kakhetian Wine Cellar, Shalvino, Tiflisski Vinni Pogreb, Winery Khareba, and Telavi Wine Cellar among those on show.
As well as wine, the day was also a cultural celebration honouring both Georgian and Chinese roots.
Georgian and Chinese folk songs and dances were performed in front of the crowds. The event ended with a tasting of Georgian and Chinese food and Georgian wine.
Local musicians played a
guzheng
– a traditional Chinese instrument – and Chinese folk dances were performed by a Korean ensemble, organised by the Beijing International Cultural Development Organisation.
Statistics showed between January and May 2016, more than 1.2 million bottles of wine was exported to China.
Figures from the National Statistics Office of Georgia (Geostat) showed in the first five months of this year 1,242,523 bottles of Georgian wine were exported to China, which was a 106 percent increase than the same time in 2015.
So far this year China is the fourth largest importer of Georgian wine after Russia, Kazakhstan and Ukraine.
Source
(edited)
To add this Search Box to your website, click here. Many designs are available