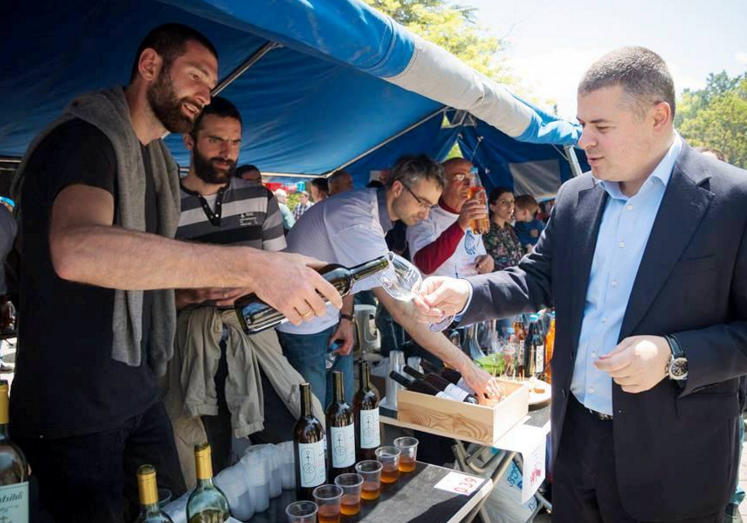 27.06.2016. Shota Lagazidze is a 26-year-old winemaker from Tusheti, a mountainous region of Georgia. Having begun as an ordinary employee at a tourism management company, he then moved to winemaking together with one of his friends, eventually setting up his own brand called 'Lagazi'.
He now owns 1,2 acres of land in the village of Zemo Alvani, in Akhmeta municipality and also has a wine cellar, where 1 200 liters of wine is kept in qvevris brought from Imereti. The two friends are now using only Rkatsiteli grapes sprayed with the so-called Bordeaux Tincture (lime and blue vitriol).
Shota Lagazidze says at first he faced numerous problems but eventually he is quite happy with the result.
'When you begin doing something you are not quite experienced in, you face many unexpected problems. You may make some mistakes, but eventually you end up becoming more experienced', - Lagazidze says.
In the nearest future, he plans to revive forgotten species of grapes, namely, Kakhetian Mtsvivani. Shota says this species is very old and can only be found in very small amounts. He has already planted 200 saplings of Kakhetian Mtsvivani. Next summer, he plans to add 700 more.
Before learning winemaking, he graduated from the Ilia State University's tourism management department. Then, during several years, he worked as a guide and he still does that periodically. Shota is very proud that everything he has is a result of his hard work.
The young winemaker is also the founder of an agro-touristic farm. Lagazidze believes that in order for Georgian agriculture do properly develop, considerable help must be offered to young farmers.
'The prospect of young people going to the villages is hard to imagine. The truth is, every young man returned to the field is crucial for the development agriculture. The point is a small country like ours cannot surprise anyone with its mass production. We can only reach the European market with natural and ecologically friendly production', - Shota Lagazidze says.
Source
To add this Search Box to your website, click here. Many designs are available.