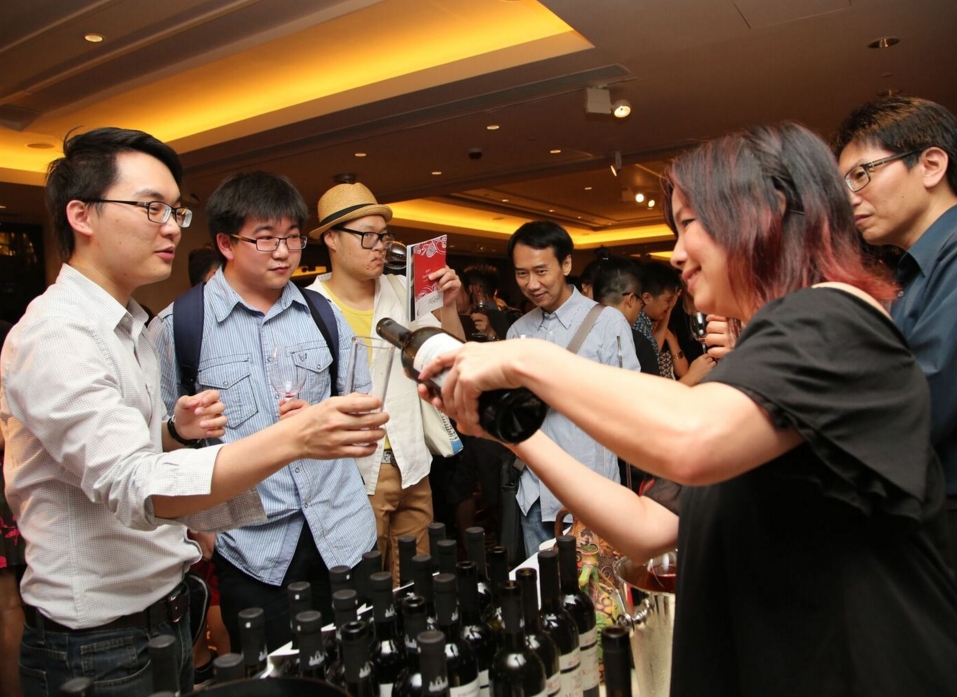 28.06.2016 (Hvino News). "Qvevri", "Gaumarjos", "Saperavi" and "Rkatsiteli" echoed through Kowloon on Friday, as 250 wine lovers, trade, industry VIPs and media tasted more than 60 wines from 10 wineries at Hong Kong's first Georgian Wine Festival held at The Cordis Hotel.
Hosted by Hong Kong-based Master of Wine, Debra Meiburg and Meiburg Wine Media, along with 10 winemakers from Georgia, and Giorgi Samanishvili, president of National Wine Agency, the Hong Kong Georgian Wine Festival featured a master class for 40 people, and two festival-style tasting events featuring 60 wines, the first being for the wine industry followed by a tasting session for the public, which attracted over 150 people.
Meiburg sought to address key barriers to success for Georgian wine, as identified by a recent group of Masters of Wine who visited Georgia in March. With some fun and catchy terminology and word-play, Meiburg helped attendees decipher the "seemingly unpronounceable" regions and varieties, plus she launched her newest video comparing popular international white wine varieties with indigenous Georgian varieties.
"Wine can be intimidating at the best of times – add a number of tongue-twisting varieties that you've never heard of and most people give up and go for the easy or familiar option. But my experience has been that when people try Georgian wines, they enjoy them very much – with several varieties exhibiting a sweetness very appealing to Chinese taste preferences.
"Our video aims to give people a starting point to try Georgia wines. In the style of "if you like viognier, try mtsvane", we offer some useful comparisons with popular international varieties to encourage people to explore the unknown grape varieties with confidence." The video can be viewed below:
"We also broadcast another new video – released just this week – exploring one of my very favourite food and wine combinations of char siu and Georgian wines. Filmed at one of Hong Kong's most beloved barbecue restaurants, Joy Hing, we sampled Georgia's most popular red grape variety, Saperavi, with this local favourite. And to share the success of this pairing, we brought Joy Hing char siu to the tasting event. It was a hit with people lining up to sample this great combination!"
Giorgi Samanishvili, Chairman of Georgia's National Wine Agency said, "We are very happy with the Georgian Wine Festival. Debra's approach of explaining some key words and Georgian varieties, like Saperavi, Rhkatseli and even our word for cheers –
Gaumarjos
– is great and was well-received at the master class."
Cultural elements of Georgia were also integrated into the master class and tasting events, supported by the Georgian Wine Association Asia. May Wong, President of the Georgian Wine Association Asia said, "Georgia is a crucial fortress of the Silk Road, and therefore a core country of today's "Belt and Road". Due to the geographic landscape, the regions are not closely connected, resulting in very distinctive culture developed in each region, such as their fold costumes, dining culture, celebrations, and more.
"In order to deepen the understanding of Georgian culture among the guests, a series of exhibits were displayed at the event, including costumes, artworks, daily commodities like containers of wine, illustrating the traditional Georgian culture to the Hong Kong people. Wine culture is highly important in Georgian culture. You can see on all military uniforms from different regions that the ox horn wine containers are always one of the accessories of the uniform, showing that wines are integral in daily life, festive celebrations and even in wars."
Attendee Teresa Wong, of
Wine Space
said, "I have tried Georgian wine before but I didn't know so much about it. This event was great exposure for me to learn about the grape varieties and characteristics of Georgian wines. I discovered that Georgian wines are quite well accepted in Hong Kong, although people may not know much about them, they usually find them special and unique."
Kevin Fok,
Wise Business Strategy
, said "I've been to a few Georgian wine events and I always want to try different kinds of wines. What I like about the event is that it is a whole-day event in different sessions. The master class was very good because Debra's presentation is easy to understand, then people can interact during the trade tasting session."
Bobbie Lee, wine lover, "This is the first time I ever heard of Georgian wine. I had a lot of fun. The atmosphere is very good that I didn't expect to see so many people. There are so many different kinds of wines and the wineries shared with us some stories of the wines, like their culture of toasting, and the special winemaking techniques. Quite interesting!
About Debra Meiburg MW
A Hong Kong resident for over 25 years, Debra Meiburg is an award-winning author, TV personality, international speaker, and a leading voice in wine education in Greater China. Debra has been awarded Entrepreneur of the Year (Women of Influence) by the
South China Morning Post
& the American Chamber of Commerce as well as being ranked the 7th most powerful woman in wine by
The Drinks Business
magazine.
Press release
To add this Search Box to your website, click here. Many designs are available.