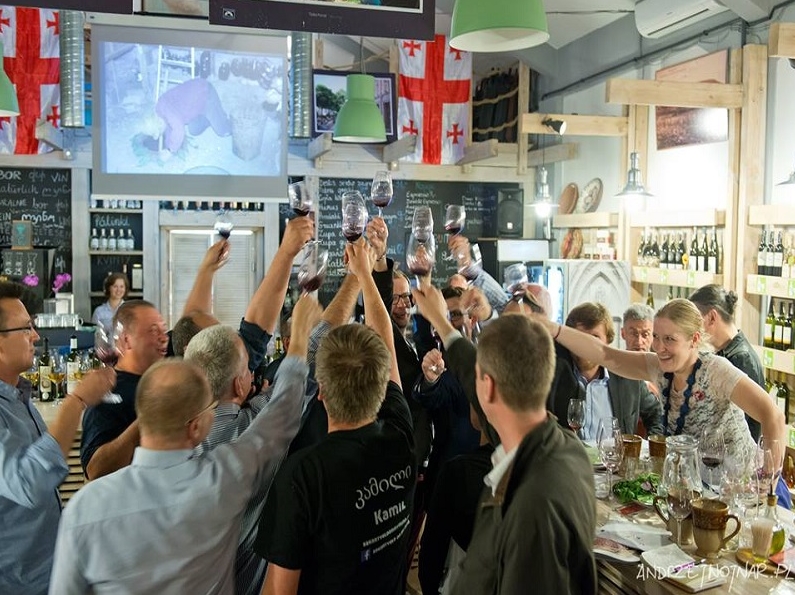 26.06.2015 (Hvino News). In order to increase awareness and popularization of Georgian wine in Poland, a tasting seminar for professionals was held in Krakow on June 23. The event at wine bar "Lipowa 6F / Krakó Slow Wines" was conducted by Mariusz Kapczynski, head of Vinisfera company, and attended by Poland's wine importers, distributors, journalists.
The seminar focused on wines produced by smaller companies and aged in
kvevri
. The guests had the opportunity to taste 18 different wines and listen to presentations by Beka Gotsadze and Nika Bakhia. The producers represented for tasting included Gocha Family Wine, Nika Bakhia, Pheasant's Tears, Iago's, Lagvinari, Schuchmann Wines, Chotiashvili's Vineyards, Tsikhelishvili's Cellar, Kvaliti, Chelti, Tbilvino.
Mr. Kapczynski noted: "This was a unique tasting, and the participants had the opportunity to get a lot of positive emotions. Beka Gotsadze and Nika Bakhia made fantastic presentations. They are intelligent people and true winemasters! I hope to repeat a similar tasting in other cities of Poland." During this year in Poland, seven such tasting events are planned.
The National Wine Agency, organizer of the seminar, noted that participation in such events contributes to increasing the competitiveness of Georgian wines on the international markets and improves the chances that Georgian wine will take the appropriate place in the Polish market. "Poland is one of the most important export markets of Georgian wine and Georgian wine has great potential to establish itself in this market," - said the Agency.
Poland is among the top five importers of Georgian wine. In January-May Poland imported 644,672 bottles of Georgian wine.
© Hvino News
To add this Search Box to your website, click here. Many designs are available.