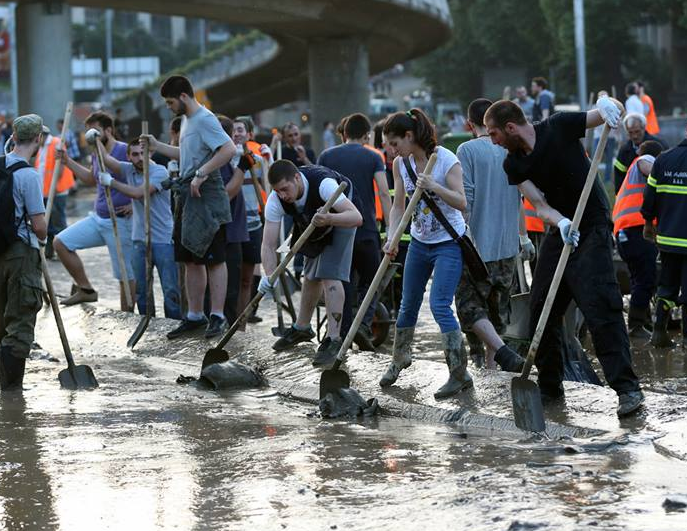 17.06.2015 (Hvino News). Polish winemakers and sommeliers, many of whom have long-time traditional ties with Georgian colleagues, took the lead in helping victims of flood in Tbilisi.
Mariusz Artur Napora works as sommelier at restaurant
Zurawina
in Warsaw. "My love to Georgia began three weeks ago but will last for a lifetime! And I love Georgians wines, oh yeah" - Mariusz confessed in his interview to
Hvino News
.
On his initiative, the Warsaw restaurant will hold a charity auction on June 26 to help victims of Tbilisi's devastating floods. The event will be organized under the patronage of Michal Szczerba, chairman of the parliament's friendship group "Poland-Georgia". The funds raised at the auction will be handed over to people affected by the flood.
The initiative of the Warsaw's sommelier quickly spread through social networks and received broad support among Poles. "The auction for the population affected by the disaster will be held in Warsaw on Friday, June 26, at eight o'clock in the evening at the
Zurawina
restaurant", - wrote Polish poet Eva Karbowska in her facebook page. "I'm not a businessman, but a private person... I'm doing this as Mariusz Napora because I feel so and so wants my destiny", - commented Mariusz in his page, after a Georgian television report attributed him as a businessman.
Another charity event in support of Tbilisi victims is scheduled for June 21 in other Polish city, Kraków - at wine bar
Krako Slow Wines
. On Sunday at 16:00 there will be a concert with a Georgian dance show, lectures about Georgia, and an auction of Saperavi 2010 produced in the
qvevri
of Nika Bakhia, famous Georgian wine maker and artist (a bottle with unique author's design!) On Thursday in Krakow a box for donations will become available, to allow the locals join in fundraising at any time.
A devastating flood happened in Tbilisi on the night of 13th June as a result of torrential rain. Apartment buildings and city zoo were flooded; urban infrastructure was severely damaged. According to the latest official figures, 19 people died, 6 are missing, another 300 were left homeless. Damage is estimated at $ 50 million. For all companies and private persons who wish to assist those affected by Tbilisi flooding, the banking details can be found
at this link.
Follow-up:
After this publication the Polish sommelier Mariusz Artur Napora asked
Hvino News
to post his open letter to colleagues worldwide: See
Open letter to all sommeliers
.
To add this Search Box to your website, click here. Many designs are available.