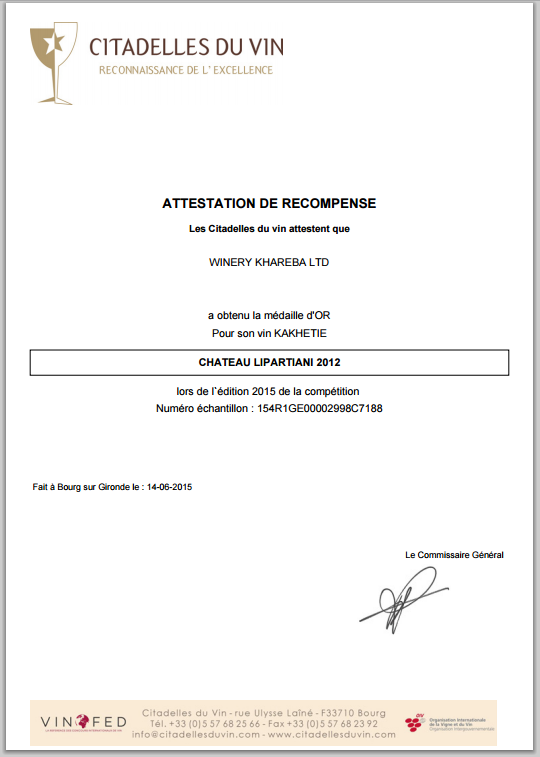 14.06.2015 (Hvino News). Georgian producer Winery Khareba has won two gold and two silver awards at Citadelles Du Vin wine contest in Bordeaux, France.
Gold award winners are:
Silver awards winners are:
KRAKHUNA 2008
KRAKHUNA 2014
Winery Khareba's huge success in 2015 is building upon the company's participation in Citadelles Du Vin in previous years, which was also successful. Last year Winery Khareba win 2 gold and 1 silver awards (read more
here
) .
Citadelles Du Vin is a prestigious wine competition in France, member of the VINOFED, organized during the Vinexpo exhibition under the high patronage of OIV. Every year some 40 top level tasters from all over the world meet in Bourg (Bordeaux, France) for three days to elect the best wines out of 3000 samples coming from about 30 countries. The contest has now attained a significant level of samples and international recognition (70% of foreign wines), making The Citadelles du Vin one of the key competitions of the world.
In 2015, the award ceremony and the promotion of the prize winning wines will take place during Vinexpo - influential international wine and spirit exhibition held in Bordeaux.
To add this Search Box to your website, click here. Many designs are available.