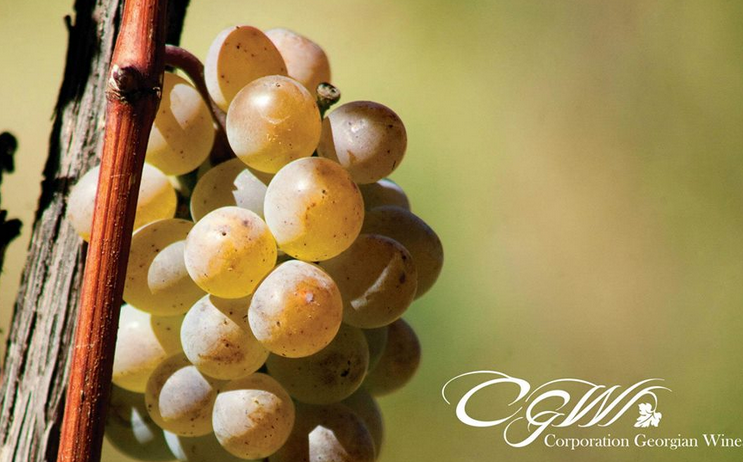 by Eka Karsaulidze
05.06.2015. Corporation Georgian Wine LTD (CGW), one of the leading wine companies in the country, gathered its foreign partners to celebrate its 15th anniversary in Tsinandali village, Telavi region, on May 30. The company's representatives and guests were able to make churchkhela, Georgian bread, and discuss the CGW's achievements and future plans.
Corporation Georgian Wine was established in 1999 by Dimitri Nozadze, a person who felt great love and respect for Georgian wine and national traditions. He set a goal to take wine abroad and give the whole world the opportunity to fall in love with it. During its history, the company has been engaged in exports, promoting the products not only in post-Soviet countries, but also in America, China and Europe.
"Our wines appeared in a few boutique shops in Georgia, but they did not last long. Our main clients are foreigners and we believe that it is particularly important for promoting our wines abroad and getting [foreigners] familiar with our traditions," said Maia Metreveli, Head of Marketing and Sales Department of the Corporation Georgian Wine.
CGW's factory is located in Tsinandali village – the cradle of Georgian winemaking. From the first day, the company use the European technology of wine production, and the factory itself is equipped with the latest machines. Since 2012 CGW has also updated the entire range of technology in its factory. According to Metreveli, modern technologies are a guarantee of quality.
"Although we cannot ignore the needs of the market. In recent years, wines from
qvevri
have become very popular, so in a few years I think we will be able to expand and will have this kind of wine as well," she explained.
"Besides high quality equipment, we also need excellent grapes for a good wine. The company cares about its organic state and carefully monitors it at all stages through the year. As a result, CGW produces 16- sorts of wine that are bottled in different series. In 2014 around 3 million bottles were released for export."
A variety of types of wine and series allows CGW to meet the needs of any customer. Metreveli said that despite the fact that the cost of grapes themselves increased in 2014 and also affected wine prices, the company continues to operate and expand its market.
"For sure, the current economic crisis has lead to big problems. Exports of wine in general declined, but our company did not stop working; we have reliable partners with whom we have long term cooperation, so I think we will be able to overcome this crisis," Metreveli stated.
One way out of the crisis is to find alternative markets. It is quite difficult to introduce and Georgian wine in Europe, due the fact they have their own wines, but progress can still be seen. The main indicator is CGW's victories at various exhibitions. Recently, the
2012 Mukuzani, series "Mikitani" by CGW
, won the gold medal at the prestigious competition Mundus Vini International Wine Award 2015 in Germany. And Saperavi 2013 series "Mikitani" won the bronze prize at the IWSC 2015 (International Wine&Spirit Competition) in London.
"These victories are important for the European market as they are a guarantee of quality. We also regularly participate in exhibitions around the world. For example, every year take part in the largest Wine Exhibition in Dusseldorf. And we are very pleased to notice that interest in Georgian wines clearly increased during the last 2-3 years," said Metreveli.
WinExpo Georgia 2015 is also an important platform for attracting new customers and markets, because many distributors from different countries come to Tbilisi on June 5. CGW will traditionally take part in it, and the company hopes that this year everything will be successful and that it will contribute to the development and popularization of Georgian wine in the world.
Source
To add this Search Box to your website, click here. Many designs are available.