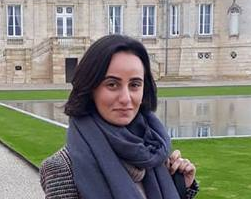 08.03.2018 (Hvino News). On the International Women's Day our special guest is Tamuka ARAVIASHVILI, the only Georgian master student of Erasmus Mundus Wine Tourism Innovation (WINTOUR), who talks about opportunities for young people in Georgia in the sphere of wine tourism.
Wine tourism is a growing industry, which can have a major impact on employment and identity of the regions in which it takes place. It is also becoming a significant element of the marketing strategy for many wine producers and their representative bodies. WINTOUR international Master program offers a truly integrated study that takes advantage of the tourism and oenology expertise of three universities and regions of Europe - Spain, France, and Portugal.
Hvino News: You are the first WINTOUR student from Georgia – how did get involved?
Tamuka ARAVIASHVILI
:
I am Kakhetian girl from Georgia. Wine world is magical place and being there as a Georgian is privilege for me. Because of my roots I had a strong connection with winemaking since childhood. I always participated in vineyard works, in harvest or winemaking process as it was part of my family's lifestyle.
After I graduated Bachelor in Tourism Management I started planning wine tours in Georgia. The main role on my decision to apply for WINTOUR played a press trip that I planned for journalist and wine expert
Miquel Hudin
. He was writing a guide book about Georgian wine.
During the trip we visited more than 100 wineries. In Georgia we have a big wine family and winemakers warmly opened doors for us. They shared their philosophy about wine and
qvevri
. My perception about life totally changed when I saw how passionate they were about their work. I was inspired by winemakers who followed their passion and were happy with it. I knew what I wanted in life and started searching programs to fulfill my dream. This is how I found WINTOUR.
Hvino News: I am sure many readers of Hvino News would be interested to learn more about WINTOUR opportunity - can you tell us more?
Tamuka ARAVIASHVILI: I remember when I opened acceptance letter I felt like I got stamp in my passport to follow my dream. WINTOUR is international Master degree program; I study with students from 19 different countries. The hard part was to compete with students with an oenology background. However, my work experience in wine tourism and practical knowledge in wine-making played a major role in getting scholarship.
Because of my study schedule I travel very often and change home every semester. I spent 1st semester in Spain, studied in the Rovira i Virgili University. In January 2018 I moved in Bordeaux, and started studying in ISVV (Institut des Sciences de la Vigne et du Vin) and will stay here till the end of semester. Portugal is the 3rd host country where I will continue studying from October. Meanwhile I am having professional internship in wine making. I am looking forward for the 4th semester when I should choose place for final internship.

What I like in this program is that I can make decisions about my internship independently. There is no list of wineries or wine tourism organizations where you should have internship. I can choose any wine country in the world. WINTOUR is possibility to work with best wineries and wine makers, visit famous wine destinations and get involved in world wine tourism.
Hvino News: How is your student's professional experience at WINTOUR so far?
Tamuka ARAVIASHVILI: Can you imagine a Kakhetian girl used to drink Qvevri Rkatsiteli at a professional tasting in Spain? This is more unusual than European winemaker or sommelier drinking Georgian qvevri wine. The funniest moment is when all your class mates think that wine is tannic and you are the only one for whom tannins are not strong enough. This is me in WINTOUR.
I mostly get valuable experience during my field trips in wineries, or when I meet winemakers. Wine tourism can't become successful without knowing winemaker, concept of the winery, grapes and of course wine.
WINTOUR means a lot of friends all around the world. I feel so lucky right now, because I have so many friends and everyone is united around wine.
Hvino News: And what about personal experience of life abroad?
Tamuka ARAVIASHVILI: I think studying in WINTOUR made me more independent and strong person. I get scholarship from European Union, however finding accommodation, paying expenses or managing traveling schedule is my own duty.
It wasn't easy to integrate in new lifestyle and new country. Moving from Georgia to Spain required a lot of effort: searching apartments, contacting with landlords, dealing with documents. Now I am joking that I am studying second master in paperwork. I think studying abroad is important for every student. It helps you realize that you are world citizen and responsible for global environment.
Hvino News: Your plans for the future?
Tamuka ARAVIASHVILI: My future plans are linked to Georgia. I think we became known for rest of wine world a little bit later than the others, however we can develop our wine strategy thanks to various examples of wine destinations and implement the best experiences.
Participating in my country's wine tourism development and promote Georgia as wine destination is my dream. I truly believe that the knowledge I get here could be useful for it.
I highly recommend WINTOUR to everyone who is searching a way to fulfill their knowledge in wine and tourism. Learn more about Erasmus Mundus Master of Wine Tourism Innovation here:
http://www.wintour-master.eu/en_index/
© Hvino News
The First Saperavi World Prize: RESULTS