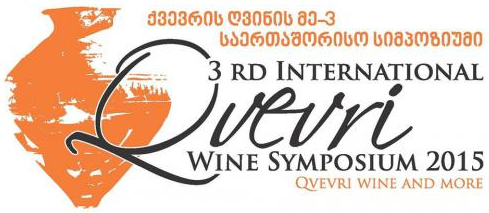 05.09.2015 (Hvino News) For the third time Georgia is hosting the international Qvevri Wine Symposium, which will take place on September 6-8.
The main objectives of the symposium are to educate the Georgian public and international community about the ancient traditions and methods of
qvevri
winemaking; the unique nature of the
qvevri
as a vessel for wine; how
qvevri
are made and the danger of losing the art; the history of winemaking in Georgia;
the variety of grapes, micro regions, and wines in Georgia.
On September 6 the event will be officially opened at the Simon Janashia Museum of Georgia. Opening will be attended by officials from ministries of culture, agriculture, economy. Simon Janashia Museum, formerly known as the State Museum of History of Georgia, is one of the main history museums in Tbilisi, which displays the country's principal archaeological findings. The Qvevri Wine Symposium will continue at the premises of Alaverdi Monastery in Georgia's Kakheti region.
Among the invited guests are both foreign and Georgian scientists, winemakers, enologists, sommeliers, wine journalists, tour operators, journalists, specialists in the fields of wine tourism and marketing, as well as
qvevri
enthusiasts from around the world. Special guests include
Lisa Granik
MW; Michael Engelmann, Master Sommelier; Robert Joseph, British wine writer and founder of
Wine International
; British wine critic Charles Metcalfe, co-founder of International Wine Challenge.
The first Qvevri Wine Symposium was held in September 2011, supported by the U.S. government's Economic Prosperity Initiative (EPI), a four-year project aimed to improve the competitiveness of Georgian economy. The
Second Symposium
followed in June, 2013.
To add this Search Box to your website, click here. Many designs are available.