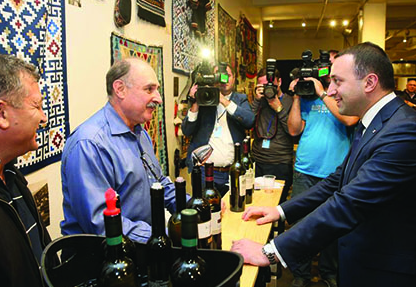 27.09.2015. New York's most reputable and popular food hub, Chelsea Market, has transformed into Georgian Bazaar this weekend.
Chelsea Market, Located in the Manhattan area, hosted a three-day event Discover Georgia, where international visitors could learn more about Georgia, the country by the Black Sea with a diverse landscape, ancient monuments, polyphonic music and the homeland of wine.
Georgia's Prime Minister Irakli Garibashvili, who was in New York within the 70th United Nations General Assembly, also visited the area, featuring Georgian arts, crafts, hand-made souvenirs, contemporary artworks, fashion designers' clothes, traditional textile, music and tourism destinations.
The event aimed to promote Georgian goods, increase the country's export potential and help its small and medium sized enterprises develop.
Some of the things visitors could find at Discover Georgia's seven stations included:
Food tasting – Chefs of New York's three prominent Georgian restaurants, Oda House, Old Tbilisi Garden and Toné-Café, cooked on the spot traditional authentic dishes.
Georgian wine tasting with up to 30 types of Georgian wine, including qvevri wine.
Packaged Food – Sample and purchase some amazing Georgian spreads, jams, sauces and other products, including tea, jellies, spices and juices.
Georgian souvenirs
Fashion - clothes and accessories by 16 Georgian designers.
Georgian contemporary art - art pieces of up to 15 Georgian contemporary artists based in Georgia and the United States.