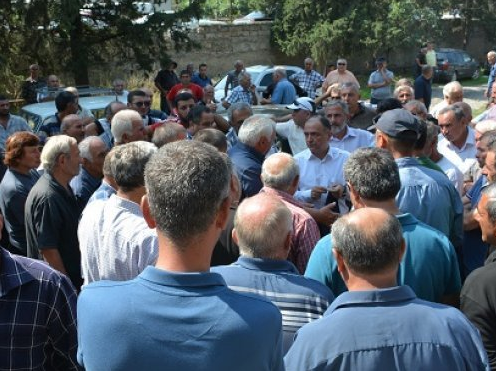 09.09.2015. In some regions of eastern Georgia farmers held a protest against lower purchase prices of grapes.
"Before the election, we were told that the price of 1 GEL per one kilo of grapes is low, but now it is even lower, but the government is satisfied? Wineries buy grapes for 0.35 GEL per kg, moreover, they have not yet begun to accept, and if that continues, the whole crop will be spoiled, "- say farmers.
According to one of the regional deputies from the ruling party Gela Gelashvili, the state cannot interfere in the affairs of private business and take part in pricing.
According to Director of the National Wine Agency George Samanishvili, protest of farmers is of a preventive nature, since the intake of grapes has not started yet.
He says 50 companies already registered in the "Vintage 2015" coordination headquarters and their number is expected to increase to 70.
"They will have to negotiate on the price on their own. If they cannot reach an agreement, the state will buy all the grapes, but at a lower price than offered by private companies," - George Samanishvili notes.
In 2014, the grapes in Kakheti region was bought by 97 wineries.
According to Kakheti Information Center, grapes began to rot in many villages because of rains.
As to the alleged price, according to the majority of directors of wineries, the price will be 70-80 tetri per kilogram, including government subsidies.
In 2014, the purchase price of grapes was much higher - 1-1,30 GEL per kg. Sometimes the price of individual grape varieties even reached 3 GEL. This year, however, such high prices are excluded due to a sharp fall in exports of Georgian wine to Russia and Ukraine.
For this reason, wine production will be reduced and wine companies do not need such a large amount of raw materials.
To add this Search Box to your website, click here. Many designs are available.