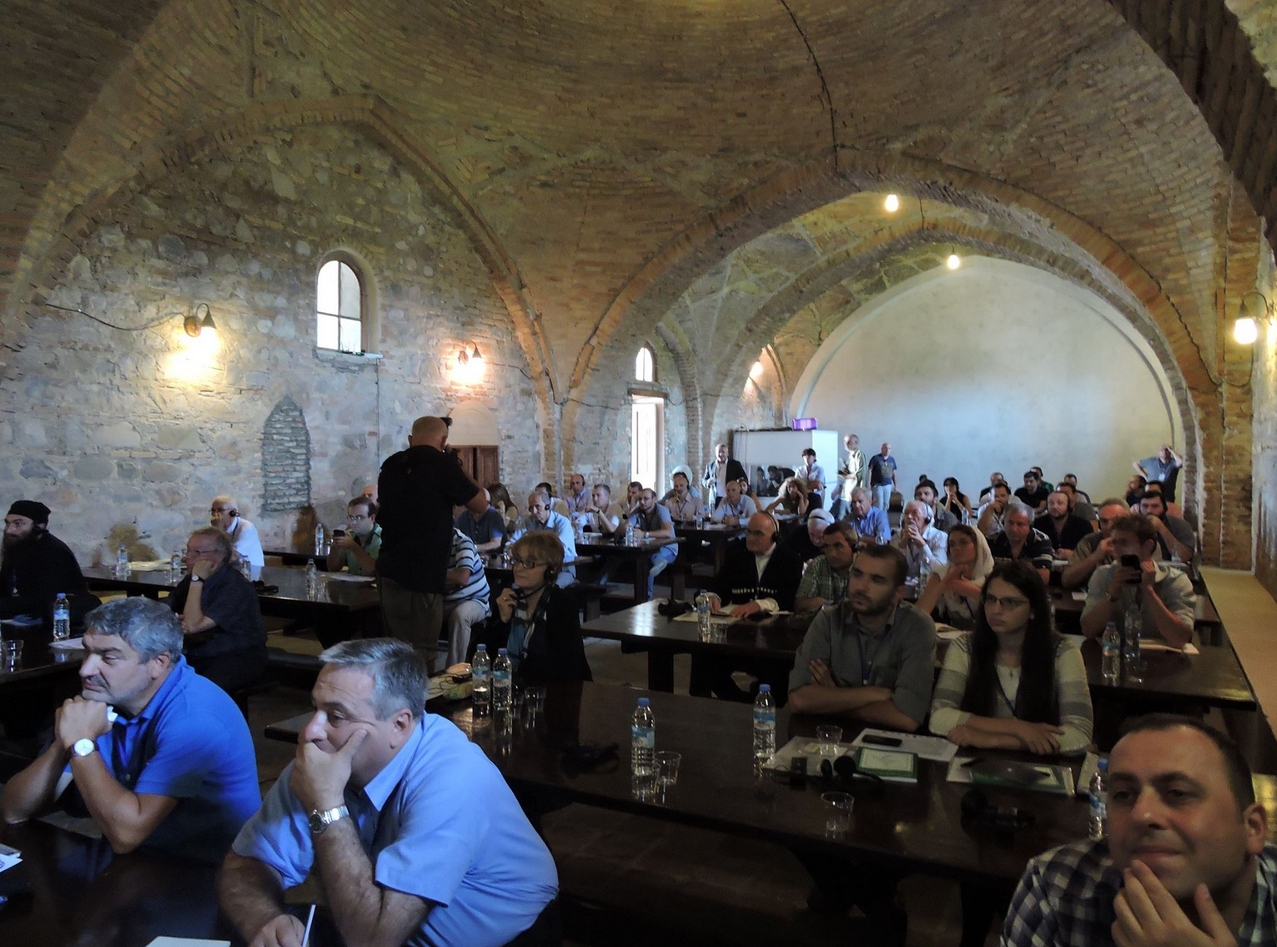 08.09.2015. The third
International Qvevri Wine Symposium
is taking place in Georgia to raise awareness of Georgian wine and the ancient ways it was, and is continuing to be, produced.
For three days this week wine industry experts from near and far are in Georgia to learn about unique
qvevri
wine-making methods. The knowledge is treasured in Georgia and is passed down from generation to generation. Today, 8,000-years-on from when wine was first invented in Georgia, the traditional
qvevri
method is used.
A
qvevri
is a large clay Amphora-like vessel that's traditionally buried in the ground up to its neck, in which wine is fermented and stored in regions of Georgia but especially in Kakheti, east Georgia.
The first official International Qvevri Wine Symposium was supported by the United States government in 2011.
The September 6-8 symposium began with an opening ceremony held at the Georgian National Simon Janashia Museum before guests were offered the chance to attend professional lectures about the history of Georgian wine, be part of historic and modern winery visits, sample Georgian cuisine and wine, enjoy poetry readings and other traditions associated with Georgian wine culture.
Georgian National Simon Janashia Museum hosted officials from Georgia's Ministry of Agriculture, local and foreign winemakers, scientists, wine tourism specialists, media representatives and wine enthusiasts.
Yesterday the Alaverdi Monastery complex in Georgia's Kakheti region hosted the international symposium. On the final evening wine and food tasting is planned at the Alaverdi complex where experts and critics will be present.
In 2013 Georgia's unique traditional method of fermenting wine in
qvevri
was registered on
UNESCO's
Intangible Cultural Heritage List.
Georgia's Deputy Minister of Agriculture and chairman of the National Wine Agency Levan Davitashvili said the Ministry team was taking active steps to raise awareness of Georgian wine abroad and expand Georgia's export markets.
In October we are planning a few events in New York, Washington and San Francisco [in the US] where Georgian wine will be promoted to professionals and enthusiasts in the wine sphere," said Davitashvili.
This month Georgia will
gift a qvevri to the United Nations
to mark the organisation's 70th anniversary. The
qvevri
will be placed in the courtyard of the UN Geneva office.
Source
(edited)
To add this Search Box to your website, click here. Many designs are available.