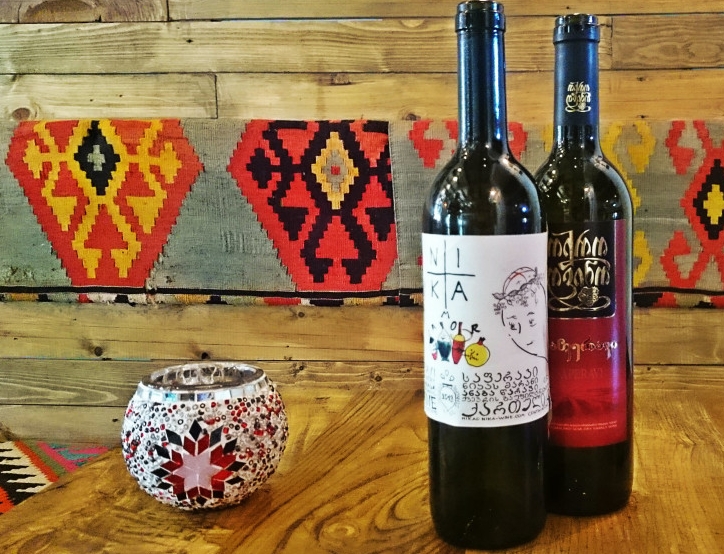 by Daria Kholodilina
07.09.2015. The closer harvest time is, the happier I am about that old wise decision to move to Georgia. I have to admit: my love to wine is very difficult to hide, and I am really anticipating this beautiful season, as grapes will be squeezed, put to
qvevris
(special clay amphorae) and then under the ground, and fresh
churchkhela
will be sold for hilarious price at every corner. The air will become cooler and clearer, it's gonna be so pleasant to sit in one of old city wineries with a glass of something straw-coloured, amber or ruby red, something fruity, berry or citrus flavoured… Ah. Even men come and go, and wine always remains (NB: one should be pretty careful and very respectful with both).
The idea of this post was born in this thrilling anticipation of
rtveli
(grape harvest in Georgian). I was about to invite my new flatmates to a winery, was considering which one I should choose… And then decided to inform myself and you, my dear readers, about the huge amount of wines we have here. The best way to learn things is asking questions, so I just headed to my favorite wine shops and bombed the people who work there with those 5 simple questions.
Now, let's start with "Vinoground" and "gVino" (both are at the street of Erekle II in the Old Tbilisi) – I like them because they have some rare wines and also support small local wine producers. The shops choice is based on my experience only – luckily or unfortunately, nobody paid me a
tetri
for this :)
Which one should be the first to try, if you have never ever tasted Georgian wines?
Artur, "Vinoground"
: I would suggest explaining the way of preparation of Georgian wines first. Before tasting a person should understand that this tradition to make wine in
qvevri
is 8000 years old, that fermentation goes different, and the taste is so intense because many elements are preserved during this process. Then it is reasonable to begin with classics: Rkatsiteli, Mtsvane (white) and Saperavi (red).
Guram, "gVino"
: In my opinion, if a person has never tasted any Georgian wine, it's better to start with Rkatsiteli and Saperavi. They are spread all around the country, and you can make any kind of wine from these grapes. Saperavi is called "Giant's blood" in Georgia: it's because it's so intense, strong, dark red. And it is also rich on tannins, so it makes it even good for one's body!
If one wants to bring a bottle of Georgian one to a person who doesn't see a difference between good and bad wine at all, what would you recommend?
Artur:
Ignorance is not a reason to poison a person… So I'd offer to choose Kindzmarauli (red semi-sweet), Mukuzani (red dry), Kisi (white semi-sweet), Chkhaveri (rose) and also Chakrulo Saperavi harvested in 2010.
Guram:
This person should feel the difference! I will recommend Chinuri by Pheasant's Tears (white) and Shavkapito by Merab Alapiani (red).
And if I want to impress a gourmand with the Georgian wine?
Artur:
Obchuri Tsolikouri, white dry by Mamuka Chkheidze, is a good choice. There are only 400 bottles of this wine, so it is very rare and very special. Also Aleksandrouli, the red sort from Racha, would be fine: this one harvested in 2013 smells like pomegranate. Asuretuli, dry red, is bottled in 140 bottles, each of them has a unique sticker. Currently one of them is in St. Petersburg, one in London, one somewhere in Kazakhstan… You can see that each bottle is numbered. It is an exclusive line, so for a real gourmand it would be a great present
Guram:
My choice is Kakhetian Mtsvane by Nikala…and another wine with a story,"Ioane", by Iberieli company. The son of the owner of Iberieli was very sick. As the father visited him in a hospital, he said that the boy should recover, so that they will make a new wine. The son cheered up and drew the label for this wine, depicting himself in a hospital.
Which wine one should taste at least once in a lifetime?
Artur:
I love Saperavi by Nika Bakhia: it is rough, you can feel the taste of grapes in it – the one from 2013 has been made from the 9th generation of vine. Another must is Chkhaveri by Gaioz Sopromadze. This is Imeretian-born rose. And also one should taste Kisi by Naotari. White dry, very tasty and nice.
Guram:
My favorites are the white sorts: Mtsvane, Krakhuna, Khikhvi. From Khikhvi grapes it is quite hard to make a really good wine, but Zaza Darsavelidze from Jakeli Wines can do this.
A visitor arrived to Tbilisi. He or she is strolling through the city in the daytime, as September sun is shining, and in the chilly autumn evening. What would you recommend to drink? And with which wine would you toast to love?
Artur:
During the day it would be great to have a glass on any white dry wine, properly cooled. In the evening, Saperavi or Kisi is recommended. We have a special limited collection of semi-sweet Kisi, by the way – usually it is dry. Drinking to love is better with the red wine. Important is to be sincere while proclaiming this.
Guram:
I recommend Rkatsiteli by Okro's Wines and Tsolikouri by Lagvinari for the daytime tasting. In the evening you can already toast to love, with red wine only, as red is a colour of passion! My suggestion is Saperavi by Okro's Wines, and also Saperavi by Nika Bakhia. They taste very well!
To add this Search Box to your website, click here. Many designs are available.