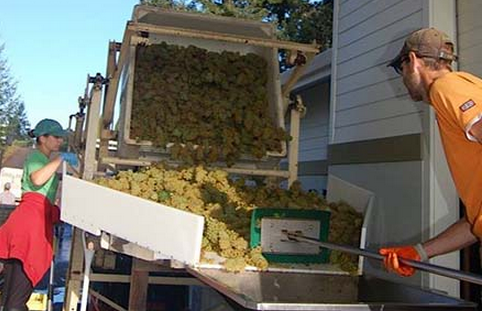 29.09.2015.This year's harvest in Georgia's wine-producing Kakheti region has already generated 51,669,513 GEL, and the harvest is not over yet.
Today, Georgia's Agriculture Minister Otar Danelia presented an interim report about the progress of this year's grape picking and processing activities in Kakheti.
He revealed more than 84,000 tonnes of grapes had been processed in Kakheti, with the season still in full swing.
Of the different grape varieties in Georgia, the Rkatsiteli variety was the most harvested.
Already this season 39,470 tonnes of Rkatsiteli grapes have been picked, worth about 26 million GEL.
The next most popular grape variety to be picked was Saperavi grapes, with 33,592 tonnes picked and worth about 22 million GEL. This was followed by the Kakhuri Mtsvane grape variety, where 2,016 tonnes were picked and worth about 825,181GEL.
The remaining 9,004 tonnes of harvested grapes, worth about 2 million GEL, was mix of other grape varieties.
The Aleksandroul-Mujuretuli grape variety has not been harvested yet, the report revealed.
Georgia's Agriculture Ministry announced most grapes had been processed in Gurjaani (about 29,000 tonnes), in Telavi (about 17,500 tonnes) and in Kvareli (about 15,500 tonnes).
Further afield, about 7,300 tonnes of grape had been processed in Signagi, about 6,700 tonnes in Lagodekhi, about 3,500 tonnes in Sagarejo, about 2,200 tonnes in Akhmeta and about 2,100 tonnes in Dedoplistskaro.
So far about 11,000 farmers had passed their grapes onto wine companies, said the Minister.
Earlier this month a record number of wine grapes were processed in a 24-hour period in Kakheti. On September 24 Georgian farmers' processed 7,100 tonnes of grapes – a 25-year record high, announced the Minister.
This harvest season Minister Danelia said 67 private wine producing companies were involved in grape processing works in Kakheti, including 18 wine enterprises that were hired by the state.
In terms of wine exports, Danelia said 23.3 million bottles of wine had been exported between January-September 2015. In September alone 3.5 million bottles were exported, and "that was this year's highest number," Danelia added.
The volume of Georgian wine export has tripled in 2015.
The top five countries where Georgian wine was exported this year were Russia (12.1 million bottles), Kazakhstan (3.4 million bottles), Ukraine (1.9 million bottles), China (1.4 million bottles) and Poland (1.1 million bottles).